'House of Cards' Season 4 Reviews: Critics Say It's More of the Same From the Underwoods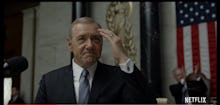 YouTube
The buildup to the fourth season of House of Cards was only amplified by this year's presidential election, influencing the Netflix series to produce an imaginative marketing strategy in the guise of a political campaign. Now, with its much-anticipated release, critic reviews are in for the new season — and broadly, if you've enjoyed the first three seasons of the series, you're likely to enjoy the new one just as much.
Conversely, for viewers hoping for a chance of pace or narrative structure, you might be disappointed to see more of the same political contriving from the likes of President Frank Underwood (Kevin Spacey) and his peers.  
Read more: 'House of Cards' Season 4: Recap of Seasons 1-3 to Get You Up to Speed Before Binging
Season four picks up right where the previous season left off, with Claire (Robin Wright) declaring her intention to leave Frank, putting a potential strain on his reelection hopes. To compound Frank's frustration, he'll also have to deal with political adversaries in a similar vein to the previous seasons — all of whom have the end goal of undermining or succeeding Frank. 
"Your enjoyment of House of Cards should be roughly calibrated to match your patience with the concept that Frank is perpetually smarter than everyone else," Lisa Weidenfeld wrote for the A.V. Club. "He will always face worthy opponents who seem ready to take him down because they've finally uncovered the piece of evidence that exposes his wrongdoings, and he will always prevail at the last minute, often because of a third party's unexpected actions." 
One noticeable change, though, is the lack of fourth-wall breaking from Frank, which become a popular and oft-parodied staple of the series. Instead, Frank is more concerned with the chaos surrounding him, putting his intimate conversations with the viewer on the back burner (he still does, just less frequently). 
"At some point, Frank Underwood went from 'entertainingly venal' to 'ham-fistedly dreadful,'" Daniel Fienberg wrote for the Hollywood Reporter. "Depending on your perspective, that moment may have involved infidelity, either of the people he killed, pissing on a grave or whatever causes the needle in your moral compass to spin the wrong way. The conversations with the audience were about dramatic affect, but they were also about complicity." 
However, even with these changes, House of Cards will inevitably appeal to viewers who enjoyed the first three seasons. This is, in part, because the excellent performances by Spacey and Wright are aided by an impressive supporting cast, which includes the addition of Claire's mother (Ellen Burstyn) and new political players (Neve Campbell and Joel Kinnaman, among others). 
"Even during stretches when [Frank]'s marginalized from the primary action, the pieces keep malevolently moving around the board, each character viciously pursuing his or her own self-interest," Chris DeVille wrote for the Verge. "Like all of Spacey's greatest lowlifes, Underwood has managed to put a decidedly negative stamp on his environment, and in a sick sense, it's marvelous to behold."  
House of Cards season four is available in full on Netflix — and if you haven't seen the intense trailer for the upcoming season, we highly recommend you check it out below.