Here Are 6 of the Best Netflix Movies for Families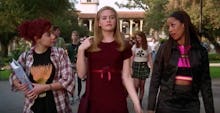 YouTube
Since both parents work full-time in almost half of all two-parent households, quality family time is at its tightest, according to the New York Times. If you would rather spend that time on Netflix than yell at your family members over a heated game of Monopoly, stream a movie to bond the entire family together. After all, there are about 75 million Netflix subscribers in over 130 countries, and Netflix is sure to have enough family friendly content to appease even the choosiest kids.
Read more: These Are the 13 Best Music Documentaries to Watch on Netflix
From the comedic classics to the heartwarmingly sweet, below are seven of the best Netflix films to watch as a family (mainly without potentially awkward scenes).
1. Fantasia 
This Disney classic has lived a strong life since 1940, being a masterpiece of eight animated sections set to classical music. In the mainly dialogue-free film, Mickey Mouse is surrounded by magic, music and well-choreographed animals. As if you needed any more of a reason to watch: The American Film Institute previously listed the film as No. 5 on its 10 Top 10 animated movies.
2.  Ferris Bueller's Day Off
One of the most memorable movies from the '80s is Ferris Bueller's Day Off, otherwise known as the hooky daydream that every student has while actually sitting at their desk. Good humor and good action make for a great Netflix choice for the family. Thanks, John Hughes.
3. Clueless
This comedy came out in 1995, hitting No. 1 in the nation on its release day, according to Vanity Fair. It's a fun, modern adaption of Jane Austen that's filled with fashion, friendship and coming of age. It's also going to please every '90s kid in the room.
4. Holes
Who could forget the classic adventure of a young Shia LeBeouf in the film adaptation of the popular book Holes? In it, two misfit kids bond over magic, history and physical labor — the usual things. It's a comedy, drama and action flick all in one.
5. Forrest Gump
Tom Hanks in Forrest Gump, a movie that captured the hearts of America, is one of the best go-tos for family Netflix night. The Oscar-winning film constantly teaches audiences about love in all forms. Try not to cry. Cry a lot. 
6. Rent
The film adaption of the hit Broadway musical Rent captures a gritty New York in a time of tackling poignant social issues, such as sexuality and drugs, through the magic of really catchy songs.