Donald Trump Slammed by Over 90 Republican Foreign Policy Veterans in Open Letter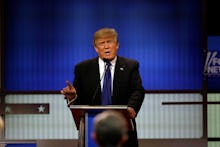 As Donald Trump becomes more and more likely to become the Republican nominee for president, the GOP establishment's efforts to derail his path are growing bolder.
A group of nearly 100 Republican foreign policy veterans and thinkers have signed an open letter excoriating Trump for his stances on America's role in international affairs and expressing deep concern that his temperament is ill-suited for the title of commander-in-chief.
"His vision of American influence and power in the world is wildly inconsistent and unmoored in principle. He swings from isolationism to military adventurism within the space of one sentence," read the letter.
Read more: What Would It Actually Take to "Destroy" ISIS?
The note was organized by Eliot Cohen, who worked in the State Department under George W. Bush, and Bryan McGrath, a managing director of a defense consultancy.
The letter claims that while the signatories hail from a variety of ideological backgrounds on the right, they're united in their opposition to Trump's vision for American statesmanship. 
"Mr. Trump's own statements lead us to conclude that as president, he would use the authority of his office to act in ways that make America less safe, and which would diminish our standing in the world," the letter stated.
A number of the most prominent signatories are foreign policy hands and public intellectuals who have at certain points been associated with or identified as members of the interventionist neoconservative movement, including Max Boot, Robert Kagan and Daniel Pipes. Other influential signatories include former World Bank President and former Deputy Secretary of State Robert Zoellick and former Homeland Security Secretary Michael Chertoff.
The authors criticized Trump for his inflammatory rhetoric against Muslims and his insistence that Mexico fund a wall that he aspires to build along the U.S.-Mexican border.
Trump has broken with GOP orthodoxy on foreign policy matters in a number of ways during his campaign. Sometimes he sounds like more of a dove than his rivals: He's expressed harsh criticism of the decision to occupy Iraq, a tone of neutrality on the Israel-Palestinian conflict and an interest in warming relations with Russian president Vladimir Putin. Other times, he sounds more bloodthirsty or willing to declare a clash of civilizations, promising that he would kill the families of terrorists in order to ensure victory over the Islamic State group, or ISIS, and ban the travel of Muslims into the United States.  
Just like in many other policy domains, Trump's stances on foreign policy seem to be all over the map ideologically. It's unclear whether that's because he actually holds a particularly idiosyncratic view of the world or because he's arbitrary and thoughtless in the way he picks his stances.
Whatever the reason, it has the Republican party's national security establishment very worried. Boot told Reuters that he "would sooner work for (North Korean dictator) Kim Jong Un than for Donald Trump. I think Donald Trump is objectively more dangerous than Kim Jong Un and not as stable."