Knife Found Buried on OJ Simpson's Estate Years Ago Finally Turned Over to LAPD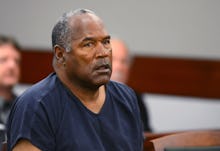 The LAPD confirmed Friday that a possibly blood-spattered knife, reportedly found at O.J. Simpson's estate years ago during demolition but just recently turned over to law enforcement, was being investigated by the police department. During a press conference Friday, LAPD spokesman Andrew Neiman said investigators were looking into whether the knife had any connection to the death of Nicole Brown Simpson in 1994. TMZ originally reported the story before police confirmed it. 
While few details from the LAPD have emerged, Neiman confirmed what TMZ reported, that a construction worker may have found the buck folding knife at the estate years ago, possibly in 1998, and handed it to an off-duty LAPD cop he ran into on the street. The officer reportedly kept the knife in his home until he retired in January and was planning to frame it in his home.  Neiman said it was unclear why the officer had kept the knife for so long. 
Read more: Why LAPD Det. Mark Fuhrman May Have Helped OJ Simpson Get Away With Murder
He allegedly told an old colleague, who worked in the LAPD's Robbery-Homicide Division, about his plan to frame the weapon when his friend told superiors at the department, according to TMZ. The weapon is currently being tested for hair and fingerprints, and will be tested for DNA evidence (including blood) next week, Neiman confirmed.
Neiman said should investigators find the knife did indeed connect to Brown Simpson's death and the subsequent trial of O.J. Simpson, "double jeopardy would be in place here. We could not charge Mr. Simpson with the homicides he's been charged with because he's been acquitted."
In 1995, Simpson was acquitted for the murder of Brown Simpson in a widely-covered trial that was largely considered the trial of the century. A new television show, The People v. O.J. Simpson: American Crime Story, revisits the case in a drama that has viewers analyzing several key factors of the murder case that many believe was the one that got away. 
Read more: 'The People v OJ Simpson' Uses Robert Kardashian to Make Point About Family's Fame
March 4, 2016, 12:27 p.m. Eastern: This story has been updated.