Bernie Sanders Thanks Mom Who Breastfed Her Daughter at a Cleveland Rally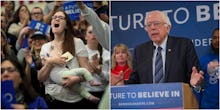 We here at Mic have gone on record as being extremely pro #FreeTheNipple — especially when it comes to moms who want to breastfeed in public. Yet who would've guessed that Democratic presidential candidate and amateur erotica writer Bernie Sanders (I-Vt.) was also pro-nipple? Probably a lot of people, tbh. It's pretty on-brand for him. But anyway!
On Monday, a photo of Ohio mom Margaret Ellen Bradford with her lil' nugget at a Sanders campaign event went viral after Bradford posted the photo on Facebook. The image features Bradford breastfeeding her 6-month-old daughter Harper at a recent Cleveland rally.
To hear Bradford tell it, the photo wasn't a political statement so much as a product of her daughter's urgent need to be fed right then and there.
"There is no 'I'm feeding you in 10 minutes,'" Bradford told Cleveland's local ABC NewsNet 5. "It's 'I'm feeding you right here, right now, or you're screaming."
Perhaps unsurprisingly, the photo went viral, quickly racking up thousands of likes. In a follow-up post, Bradford said Sanders and his wife Jane approached her immediately after the rally. 
"[They] thanked me for doing what mothers do and taking care of my daughter when she needed her mom, even if that meant nursing in public," Bradford wrote in a post. Bradford also tagged Ellen DeGeneres, asking if there was a way that the talk show host could help her get a photo with Bernie. 
While Bradford has yet to score a photo op with Sanders, she got something that's arguably better: a Twitter shoutout from the candidate himself, who took the viral photo as an opportunity to express his firmly pro #FreeTheNippleForBreastfeedingMoms stance on Twitter:
While it's hardly the most pressing issue of the presidential campaign, Sanders' pledge of support comes at a time when women are being roundly criticized for breastfeeding in public — despite the fact that breastfeeding is widely considered one of the healthiest sources of nutrition for babies.
In public places like restaurants and on social media, women have been shamed for feeding their babies in public. Even A-list moms at the Oscars weren't exempt: According to recent reports, women were forced to pump-and-dump in the bathroom at the Academy Awards rather than somewhere quiet and hygienic.
Given the cultural sexualization of the female nipple, it's not exactly surprising that people would be, for lack of a better term, grossed out by the sight of a woman breastfeeding in public, let alone at a political rally. But by taking a small stand for lactating moms, Sanders has made it clear that when it comes to his campaign, breastfeeding-shaming won't be tolerated.
h/t Huffington Post