Donald Trump's "Trump University" Scandal Takes Center Stage at Republican Debate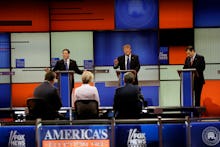 Check out all of Mic's coverage of Thursday's Republican debate here.
The Republican debate on Fox News on Thursday got heated when moderator Megyn Kelly pointedly questioned Donald Trump over his failed business venture known as Trump University.
Forcefully challenging Trump's contentions that Trump University, his online education initiative, was on the up-and-up, Kelly rattled the frontrunner with her persistent line of questioning.
Read more:
"Trump University, a business that you started, and it was marketed to many people and now there is a class action of over 5,000 plaintiffs against you, Mr. Trump," Kelly began. "It involves veterans, it involves teachers and it involves so-called middle guy, working class, lower working class, middle class who say they were fleeced, who say it was a scam."
Repeating his standard defense of the initiative, the candidate responded that Trump University boasted a 98% approval rating and an A from the Better Business Bureau — but Kelly said those claims didn't withstand scrutiny.
"The rating from the Better Business Bureau was a D-minus — the last publicly available rating, in 2010. It was the result of a number of complaints," Kelly said. While Trump said the rating had subsequently been elevated to an A, she noted that no such grade had ever been made public.
"You made the same argument about 98% of the people being happy with Trump University," Kelly continued, but she cited the case of a woman who claimed she'd completed the satisfaction survey "while someone was standing over her shoulder."
Trump wasn't having it.
"Give me a break," he said, vowing he'd prevail over the plaintiffs in court.