Why Donald Trump's Immigration Interview With the 'New York Times' Scares Him so Much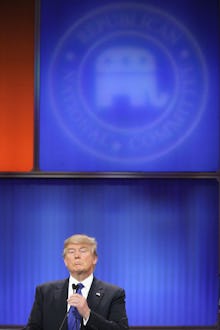 During Thursday's GOP debate, real estate mogul and party frontrunner Donald Trump told Fox News moderator Megyn Kelly in their first major interaction since last August's debate dustup that he would not release tapes of a meeting he had with the New York Times. 
During that sitdown, Trump reportedly said his hard-line stance on immigration — including support for mass deportations and a U.S.-Mexico border wall — is basically a candidate's false front.
"No, I would not do that, I don't think," Trump said when asked about disclosing what went on in that meeting.
Read more:
"If I deal with you off the record, [I] have too much respect for that process to say, 'Just release everything,'" Trump said. "I would not do that."
Many viewers wondered what could have been said in the interview that Trump was so skittish about. Some have speculated that Trump told the Times he didn't actually believe the controversial (and often outlandish) claims he's made about Mexican immigration and that he only presses the issue to appeal to voters. It's a theory that wouldn't be completely off base. The candidate has frequently flip-flopped on major debate issues  – a point that Kelly hammered during the debate — including having initially said he would not have a problem allowing Syrian refugees to come into the U.S., only later to say the opposite.
Were the Times interview to surface, it could give weight to critics' claims that Trump has pandered to voters and damn Trump as a candidate who doesn't actually believe what he says. 
Watch his debate answer here: