20 Years Later, 'Rent' Is Still One of the Most Influential Works in Pop Culture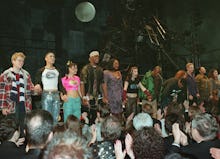 Picture this: A new musical has New York City whipped into a frenzy after a hugely successful off-Broadway run. The Broadway production is even more successful. The show is an inspiring masterpiece that features an ethnically diverse cast and a story about rebellion against oppression.
Is it Hamilton we're speaking of? No, for this one, you'd have to go back two decades: We're talking about Rent.
Since 1996, Rent has remained in the hearts of those inspired by its story, its music and its legacy. Throughout pop culture, one can find pockets of Rent's influence. Here are just five ways entertainment was changed for good by the late Jonathan Larson's musical.
Idina Menzel's career
The original stars of Rent represent some of the brightest Broadway talents: Taye Diggs, Adam Pascal and Anthony Rapp. Then there's Idina Menzel (Ms. Dazeem, if you're John Travolta), one of the most visible Broadway stars in modern culture. 
Think of a world in which Menzel was not the original (Tony-winning) Elphaba in Wicked. Think of a world in which Elsa from Frozen did not sing "Let It Go" in Menzel's voice. That's a world without Rent, and it's a world where Demi Lovato is Elsa instead. Thankfully for Menzel, she's living in the Rent universe, and she's all the more famous for it.
Spring Awakening
Plenty of shows have taken inspiration from Rent, particularly Miranda's and the Green Day musical American Idiot. Perhaps the clearest descendant of Rent, however, is Spring Awakening, which wrapped a revival production on Broadway in January.
The stories are closely linked in theme: A group of rebellious, free-spirited young people rage out against the oppression of a system. Taken together with their rock-influenced scores and big group numbers (see: "Totally Fucked"), Rent and Spring Awakening share much in common — like theatrical cousins whose parents just don't understand.
Smash season 2
After most viewers turned away from Smash in its second season, the show took a turn. It split its focus between the show from season one, a Marilyn Monroe-inspired musical called Bombshell, and an upstart musical called Hit List. The show told the story of star-crossed lovers in the music business and had Rent's very MTV sensibility.
That wasn't the main Rent comparison, however. The in-universe book writer of Hit List, Kyle Bishop (Andy Mientus), died while his show was still in previews — similarly to how Rent creator Jonathan Larson died the morning of Rent's first preview of its off-Broadway run. To further amp up the comparisons, executive producer Josh Safran cast two original Rent cast members (Jesse L. Martin and Daphne Rubin-Vega) in recurring roles.
Rush tickets for Broadway
Have you ever lost the Hamilton lottery? Blame it on Rent. The 1996 show's student rush popularized the last-second-tickets form, a system used by plenty of shows today. Back in Rent's day, the fans' passion led to the need for a more formal rush system. Today, Hamilton has turned their rush — called Ham4Ham — into an actual art form.
Lin-Manuel Miranda's work
Miranda has been vocal about how much Rent inspired both Hamilton and his first Broadway show, In the Heights. For the former, the comparison isn't just a textual one (though the themes of rebellion reverberate). The two shows are comparable as cultural phenomenon as well.
It's fitting that the two became massive hits roughly 20 years apart. Hamilton, like Rent before it, is going to change Broadway — and pop culture as a whole.