3 Figures That Should Make Hillary Clinton Feel Pretty Good About November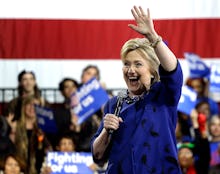 After a string of solid victories over Sen. Bernie Sanders, Hillary Clinton is once again the presumptive Democratic nominee for president. According to online betting markets, she also stands a better-than-even chance of taking the oath of office on Jan. 20, 2017. 
Three figures help illuminate why:
4.9%
For the 72nd consecutive month, the U.S. job market was in positive territory last month, adding 242,000 jobs while the unemployment rate held steady at 4.9%.
That's down from the post-crash peak of 10% in October 2009 — well below the 6% rate Mitt Romney, the Republican Party's 2012 nominee, promised by the end of his first term.
"We've got a real strong job market going," economist Carl Tannenbaum told the New York Times after the release of Friday's jobs report. "It does suggest that fears about a U.S. recession have been greatly overdone."
In a message sure to be echoed by Clinton this fall, Jason Furman, chairman of President Barack Obama's Council of Economic Advisers, touted "the longest streak on record" of private job growth, while adding that policymakers should do more to boost wage growth through measures like a minimum wage increase and infrastructure spending.
"Over the past two years, our economy added more private-sector jobs than in any two years since 1999," Furman said in a statement.
Still, expect Republicans to highlight the soft spots in the U.S. economy. The International Monetary Fund projects modest economic growth of just 2.6% this year, and the latest data indicate that manufacturing activity is contracting. Then there's the dismal wage picture: Even as incomes have climbed for the top 1%, they've declined or proven stagnant for middle- and working-class Americans in recent decades.
In his Super Tuesday press conference, GOP frontrunner Donald Trump hinted that he'd make stagnant wages a focal point of his campaign against Clinton.
"I watched Hillary's speech and she's talking about wages have been poor and everything's poor and everything's doing badly, but we're going to make it — she's been there for so long," he said. "I mean, if she hasn't straightened it out by now, she's not going to straighten it out in the next four years."
50%
Likely aided by the strength of the employment market, Obama's job approval rating has been creeping toward the crucial 50% mark. Should more voters approve than disapprove of his job performance on Election Day, that will be a major boon to Democrats' chances of holding onto the White House.
According to the RealClearPolitics polling average, Obama's approval rating stands at a nearly two-year high of 47.9%, just short of his 48% disapproval rating.
In the six elections without an incumbent president since World War II, "All three candidates seeking to succeed presidents with approval ratings below 50% were defeated, and two seeking to succeed presidents with approval ratings below 40% were decisively defeated," political scientist Alan Abramowitz told U.S. News & World Report in October.
One cautionary tale: While he narrowly won the popular vote, Al Gore lost to George W. Bush in the Electoral College in 2000, even though President Bill Clinton boasted a 57% approval rating in the final Gallup poll before the election.
49%
That's the portion of Republican voters who've told exit pollsters in this year's nominating contests that they'd be satisfied with Trump as the GOP nominee. That's barely worse than the 53% who've said they'd be satisfied with Marco Rubio and the 51% who claim they'd be fine with Ted Cruz — but the figure underscores the deep divisions roiling the Republican Party.
There's already talk of an establishment conservative mounting a third-party challenge to Trump, a scenario that would splinter Republican votes and virtually guarantee Clinton's election. (It may, however, save down-ballot Republicans by turning out mainstream GOP voters who'd otherwise have stayed home.) And with prominent Republicans from moderate Massachusetts Gov. Charlie Baker to hard-core conservative Sen. Ben Sasse of Nebraska vowing never to support Trump in a general election, Trump will have precious little time to repair his party's ruptures.
Of course, the fact that we're even having this conversation underscores the potential for Trump to once more upend the laws of political gravity and lay waste to the conventional wisdom: His surge, you may remember, was supposed to be nothing more than a fantastical fling before GOP voters got serious and nominated Scott Walker, Jeb Bush or Rubio. 
But it's one thing to confound expectations in a Republican primary; it's quite another to face a more diverse general electorate, where Trump is as yet untested. Clinton's no shoo-in, but standing where she is today, she's got to like her chances.