"Untitled 6": Lyrics and Meaning Behind New Kendrick Lamar Song with CeeLo Green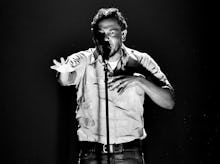 Kevin Winter/Getty Images
Kendrick Lamar's untitled unmastered was a surprise release for two reasons: first, prior to Spotify accidentally leaking the track list, there hadn't been concrete news on a follow-up to Lamar's critically acclaimed To Pimp a Butterfly. Second, untitled unmastered contained studio versions of unreleased songs that Lamar had performed live.
However, not all the tracks on the album are re-recordings of live-premiered songs; "Untitled 6 6.30.2014." is a new track and happens to be one of the album's highlights. Much like the track's annotated date, "Untitled 6" has a summery, sun-dewed sound, aided by CeeLo Green's chill, Isley Brothers-esque crooning. 
Read more: Kendrick Lamar Got Unforgivably Snubbed Again at the 2016 Grammy Awards
"These metamorphic supernatural forces dominate what I see," Lamar says in the opening of the song. "A Gemini, do I let these personalities always conflict in me."
The reference to Lamar being a Gemini, born on June 17, is salient as the song focuses on personality traits that seemingly compete against one another. The song can be interpreted as Lamar, the suitor, pleading with a love interest while reconciling his insecurities. "Look at my flaws, look at my flaws/ Look at my imperfections and all," Lamar says in his second verse. "Look how you think that my mystique is a round of applause."
Themes of duality pervade the song; in the chorus, Green sings, "Both sides of me are evenly odd ... Am I mortal man or make believe?" 
Duality is also demonstrated in the song's structure. Toward the end of the song, focus on Lamar's own insecurities shifts to the insecurity he perceives his love interest having about her humble upbringing. In the end, Lamar reassures his love interest that none of those misgivings matter. "I know for sure who you are/ You're the goddess of the odd," he says, before resigning, "I am yours."
Listen to "untitled 6 06.30.2014." below.