Bernie Sanders Latest Polls: Here's Where the Democratic Candidate Stands in 2016 Election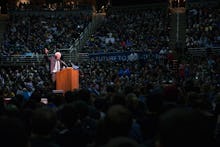 Vermont Sen. Bernie Sanders had a packed week, though it was somewhat darkened by the Democratic presidential candidate's Super Tuesday results. Yet despite losing ground to the party's frontrunner, former Secretary of State Hillary Clinton, Sanders was emboldened, positive and long-sighted about his campaign. And recent polls suggest the candidate has reason to remain hopeful. 
According the Huffington Post, Sanders had 37.9% of Democratic primary voters' support on Friday, compared to Hillary Clinton's 52.9%. Yet Sanders' standing in the polls has been on an upward trajectory for months, rising from 4.5% on Feb. 15, 2015, to 16.7% on July 6, 25.8% on Sept. 15 and 40.5% on Feb. 16, its highest peak yet, according to the Post. Rising from 4.5% to 40.5% during the course of the year shows the candidate has a track record of winning voters' support.
Read more: Super Tuesday 2016 Results: Here's Who Won in Every State
Yet according to Thursday primary results, Sanders still has work to do. RealClearPolitics reported Michigan's Democratic primary results were split 61 to 33 in Clinton's favor. And in Louisiana, the numbers were even grimmer for Sanders: the Vermont senator won 14% of Democratic primary voters' support in the Pelican State, compared to Clinton's 61%.
On Tuesday, one of the 2016 election's most important voting days, Sanders won in Minnesota, Colorado, Oklahoma and his home turf, Vermont. But Sanders' rival and Democratic frontrunner Hillary Clinton was the night's bigger victor, and the former Secretary of State won in Texas, Arkansas, Tennessee, Alabama, Georgia, Virginia and, by a hair, Massachusetts.
Sanders is soldiering on.
"The political revolution has begun," he said in a statement commenting on Super Tuesday's results. "Ten months ago, when our campaign started, not many people thought we would get this far or do this well. Not many people outside of Vermont even knew who I was. That was then."
"Voters in Colorado, Oklahoma and Minnesota have joined the people of Vermont in showing America that a political revolution is spreading across our country, that people want to take on the billionaire class and make our government work for all Americans and not just the top 1%," Sanders added. 
Correction: March 4, 2016