Kendrick Lamar "Untitled 03" Lyrics: Meaning Behind Third Song on 'Untitled Unmastered'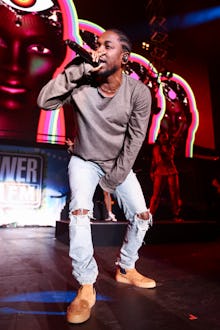 John Salangsang/AP
Rapper Kendrick Lamar surprise-dropped a brand new album on Thursday night, untitled unmastered, a collection of eight tracks, some of which Lamar had previously performed live. The new album comes only weeks after Kendrick Lamar's powerful performance at the Grammys during which he addressed police brutality and mass incarceration.
Read: Kendrick Lamar Got Unforgivably Snubbed Again at the 2016 Grammy Awards
"Untitled 03 05.28.2013," is the third track on the new album, and it continues a theme of addressing institutional racism and the exploitation that black artists face at the hands of white music executives. The song is presented through call-and-response patterns, as a series of questions and answers, in a pattern that evokes folk tales. 
"What did the Asian say?" asks the chorus at the start of the verse, to which Lamar responds, "A peace of mind/ That's what the Asian said, I need a divine/ Intervention was his religion and now it's a prize."
The chorus repeats the questions, "What did the Indian say?" "What did the black man say?" and each corresponding answer offers different, irony-tinged advice ("A piece of land" and "a piece of pussy," respectively) until the chorus asks, "What did the white man say?"
The answer to that final question is "A piece of mines," as in, he has nothing to offer and only wants to take — and Lamar raps about feeling exploited as a black artist, and the choice he must make about whether to sacrifice ideology for fame.
The final verse is the cry, "I shall enjoy the fruits of my labor if I get freed today," evoking the language of slavery and drawing parallels between oppressions both past and present. An instrumental fade-out offers a little breathing room after a song that is both heavy with words and with meaning.