Dudes, a Vegan Diet Could Lower Your Risk of Prostate Cancer by 35%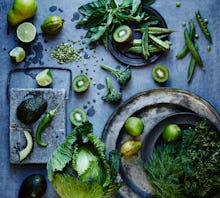 If you're a dude who loves meat, swapping your juicy T-bone for a vegan portobello steak probably isn't your idea of fun. But you know what is fun? Reducing your risk of prostate cancer. 
Sorry, carnivores, it's true: A recent study found a 35% lower risk of prostate cancer among men who followed a vegan diet, according to the Press Association.
Vegans eschew all animal products — not just meat, but items like dairy and eggs too. Their diets consist heavily of fruits, vegetables, grains and nuts. Around 1 million Americans follow a vegan diet, according to research commissioned by Vegetarian Times.
The widespread study, funded by the World Cancer Research Fund and conducted by researchers at Loma Linda University, examined data from 26,000 men. Among the group, there were 1,079 cases of prostate cancer, and around 8% of men said they followed a vegan diet.
The researchers discovered a link between vegan diets and prostate cancer — namely, that the former had a "statistically significant protective association" against the latter, according to the Press Association. 
"This new research makes a significant step in linking a vegan diet to reduced prostate cancer risk," said lead author Gary Fraser, a Loma Linda University professor, according to the Press Association. "What we now need is more research into this area to determine to the extent a vegan diet could reduce the number of men developing this cancer."
Prostate cancer is the second-most common cancer and one of the leading causes of death among U.S. men, according to the Centers for Disease Control and Prevention. In 2012, 177,489 men in the U.S. were diagnosed with prostate cancer, and 27,244 men died from it.
Plant-based diets have been heralded before for their cancer-fighting abilities. A 2012 study published in Cancer Epidemiology, Biomarkers & Prevention explored the link between vegetarianism and overall cancer risk in nearly 70,000 people. Vegetarian diets showed a "statistically significant protection for overall cancer incidence." 
Who wants some pizza with cauliflower crust and cashew cheese?