Why Is Kim Kardashian West Famous? The Truth Behind the Pop Culture Icon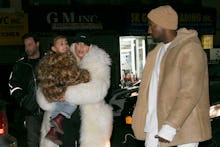 Marc Piasecki/Getty Images
When it comes to this era's pop culture icons, Kim Kardashian West — with her phone game, book, set of emojis and boutique clothing store DASH — takes the cake. By the end of 2015, the reality star, mother and wife sat on an empire of $53 million and counting. A closer look at the stats reveals that amount to have nearly doubled since 2014. For many who just know Kardashian West by her name and perhaps a few things she's done, the way in which she got so famous remains shrouded in mystery. 
The Kardashian name first landed on the public's radar amid the media frenzy — and possible birth of reality television — that was the 1994 O.J. Simpson murder trial. The Kardashian clan were close friends of the Simpsons, and Kardashian West's father Robert Kardashian acted as one of Simpson's defense attorneys. 
Read more: I Wouldn't Wish Kim Kardashian West's Beauty Secrets on My Worst Enemy
As a Beverly Hills, California rich kid herself, Kardashian West's rise to fame has been a perfect storm of seizing the moment — as well as seizing the public's fascination with sex, money and our phones. 
Kardashian West's first job was as a shop assistant at a Californian boutique called Body, which would foreshadowing her own line, the New York Post reported. In the early 2000s, Kardashian West worked behind the scenes in the closets of celebrities like Brandy, Cindy Crawford and Paris Hilton. Back in 2003, Kardashian West (who was just Kardashian) was dating Brandy's brother Ray J and getting snapped by the paparazzi while roaming the clubs with heiress Hilton.
Fast forward four years later to 2007, which would become a serious launching point for Kardashian West. That year, Kardashian West and Ray J's sex tape was leaked and sold to the public, and she made headlines when she filed a lawsuit against adult film company Vivid, according to the New York Post. Simultaneously, Kardashian head Kris Jenner proposed a reality show chronicling her family to Ryan Seacrest, according to BuzzFeed. Seacrest bit, and thus Keeping Up with the Kardashians was born.
The show proved so successful that spinoffs like Kourtney & Kim Take Miami and Kourtney & Kim Take New York were born in its wake. The shows were based around Kim, Kourtney and Khloe Kardashian opening up new branches of their high-end boutique DASH — capitalizing on their swelling fame, according to the New York Times. 
Kardashian West's rise to fame also parallels the rise of the use of social media. As of March 4, Kardashian West has over 62 million Instagram followers watching her every move. "Something about Kim is very appealing to digital natives," tech journalist Kara Swisher told Rolling Stone in 2015. Even Instagram CEO Kevin Systrom said that "Instagram wouldn't be the same without Kim," according to Rolling Stone. And with her book Selfish, Kardashian West builds on that momentum, according to the Guardian. Then she furthered her exposure by releasing a smartphone app and a set of emojis. 
Now she is the partner of the equally famous Kanye West, proving that the Kardashian (West) clan isn't going anywhere anytime soon.