Rowan Blanchard Opens Up About Coming Out as Queer and the Backlash She Faced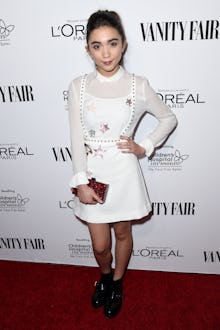 From exploring her relationship with white feminism to opening up about her struggle with depression, Girl Meets World actress Rowan Blanchard has never been afraid to share her experiences with her fans. Her decision to open up about her queer identity in January was no exception — but, it turns out, was also one hardly free from consequences. Blanchard faced backlash after coming out, she revealed in a recent Wonderland profile.
While Blanchard may not regret her choice to reveal her pride in her identity, she learned that not everyone felt the same.
"I'm OK with it now, but I still realize that I was allowing people to comment on something that's very personal," Blanchard told Wonderland. "The first day I tweeted about it, it was definitely scary to see people commenting about things that literally have nothing to do with them," she added, noting that her public profile has allowed "people to critique me, to take ownership of my body, of my face, of my features."
But despite this backlash, Blanchard maintains there is power in sharing one's identity and experiences on social media — especially for young women.
"I think social media is such a tool for people in my age group and such a tool for girls particularly," she told Wonderland. "I learned through social media that we often talk about America like it's a totally equal place, but that's not always the case. You think certain things happen in third-world countries or places that are really far away from where you live, but through social media I realized that things are happening right in front of me."
It's an opinion Blanchard has voiced before and, hopefully, one she'll continue to promote — especially since revealing she has previously allowed others to silence her. 
"In my life — only ever liked boys however I personally don't wanna label myself as straight gay or whateva so I am not gonna give myself labels to stick with — just existing :)," Blanchard posted on Twitter in January.
"It has felt safer and less terrifying to silence myself to a degree than to actually engage with people, and make them take responsibility for their own actions," Blanchard wrote in an essay for Rookie Magazine published in January. But ultimately, she added, she has learned, "if you listen closely to the tiny voice in your head, the calm one, that is you talking. And if you turn up the volume on it and try to listen, it blocks all the other voices out."
h/t Teen Vogue