What Is Double Jeopardy? Knife Found at OJ Simpson's Former Estate Sparks Investigation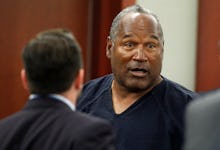 Pool/Getty Images
The LAPD confirmed Friday it was investigating a knife found at OJ Simpson's former estate in the late 1990s and just recently turned it over to the police department. But even if the investigation discovered evidence that Simpson murdered his former wife Nicole Brown Simpson in 1994, double jeopardy makes it illegal to indict him, LAPD spokesperson Andrew Neiman explained in a press conference Friday. 
Double jeopardy is a trial rule that protects the defendant from getting charged with the same or similar crime after being formally acquitted. Simpson was formally acquitted of his murder charge in Brown's homicide case in 1995 when the court declared him not guilty; he therefore cannot be charged with that crime again. 
Simpson's mid-90s trial has long been a subject of controversy as many believe he was guilty of murdering Brown. Simpson is currently serving jail time for armed robbery and kidnapping.
Read more: Knife Found Buried on OJ Simpson's Estate Years Ago Finally Turned Over to LAPD