6 Facts About the Sexual Assault Movement You Need to Know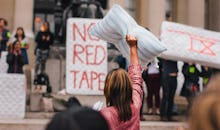 Sexual assault is an epidemic. One in five women has been raped in their lifetime in the United States, according to the National Coalition Against Domestic Violence, and 25% of college-aged women report having experienced "unwanted sexual incidents" at school, according to one 2015 Washington Post-Kaiser Family Foundation poll.
While anti-sexual assault activists have received plenty of media attention lately, many don't realize that this recent wave is just that: the latest swell in an already accomplished movement addressing a centuries-old problem. 
Here are just a few surprising facts about the history of this movement.
1. The sexual assault movement has been around for centuries. 
The efforts of sexual assault activists may have recently been featured on magazine covers and inspired documentaries, but the movement actually stems back to the 19th century — even if it wasn't labeled as such. For example, women like those who testified before Congress following an onslaught of assaults during the Memphis Riot of May 1866 can be credited with the birth of the movement, according to Gillian Greensite, director of rape prevention education at the University of California, Santa Cruz. Even the prohibition movement was tinged with sexual assault activism because "women [and men] sought to ban alcohol in part because of domestic and sexual violence at home when men came home drunk," historian Stephanie Gilmore said in an interview.
It wasn't until the late 1960s and 1970s, however, that the movement as it's known today gained momentum. Women began to call out culturally accepted and even technically legal phenomenon — like marital rape and sexual harassment — as problems. Feminists forced Americans to regard largely unrecognized terms like "sexual violence, rape and assault" as "part of a common vernacular," which in turn forced them to be taken seriously, Gilmore said.
2. The movement was led by women of color.
Between 1974 and 1976, four women of color — Inez Garcia, Joanne Little, Yvonne Wanrow and Dessie Woods — were all convicted after killing their rapists and assailants in acts of self defense. Their cases were high-profile reminders of the pervasiveness of sexual violence in the United States.
Black women have especially been historically objectified and viewed as hypersexual due to the legacy of American slavery. For years, black women were legally considered "unrapeable" — a horrifying status women of color protested well before these cases made headlines.
Though their efforts to combat sexual violence may not have been formalized as a distinct movement, female leaders of the civil rights movement fought sexualized violence as well as racism. Rosa Parks, for example, may have been known for launching the Montgomery bus boycott in 1955, but she had already formed the Committee for Equal Justice, which fought sexual violence against women, 11 years prior, according to Ms. Magazine.
Much like the feminist movement at large, however, some argue that women of color have since been erased from mainstream, anti-violence movements. Yet this population is one of the most affected: 60% of black women are sexually assaulted before the age of 18, according to research conducted by the organization Black Women's Blueprint and reported by BET.
3. Tactics have changed over the years. 
In 1978, 5,000 women from 30 states gathered in San Francisco for the first "Take Back the Night" event, according to Greensite. The event, which typically involves marches and speakouts, continues today. In recent years, activists have approached their work in particularly creative ways by leveraging technology and building on a long legacy of artists — like Yoko Ono, Marina Abramovic and others. They have creatively performed and used other visual forms to further their mission. 
Even activists' approach to classic tactics, like marches, have evolved. For example, after a Toronto policeman told a group of young women that they should "avoid dressing like sluts" to prevent assault in 2011, approximately 3,000 women and men marched in a protest they dubbed "SlutWalk," according to Time. That initial event inspired more than 50 other walks in cities around the world and did much to call out ingrained victim-blaming attitudes and rape culture.
4. The specific focus on campus sexual assault is relatively recent.
Just as new tactics have emerged, so has the locale of the movement itself. While campus activism has inarguably received the most mainstream attention in recent years, the movement's presence on campus is still relatively new. One of the first campus-based rape crisis center was established at the University of Maryland in 1972, and marches like Take Back the Night didn't gain momentum on campuses until years later, according to Ms. Magazine.
In fact, the mainstream media all but ignored the campus-based movement until 1985 when Ms. Magazine published the feature "Date Rape: A Campus Epidemic," featuring the research of Mary Koss. She coined the term "date rape," after conducting a three-year study of more than 7,000 students at 35 schools across the country, according to a Women's Media Center report.
5. A lot of legislation surrounding assault is pretty recent, too. 
Survivors have spoken out about the frustrating obstacles they face in their attempts to pursue justice. This is probably because "rape was initially conceived as a crime against a man's property" and was "not intended to protect women's autonomy and bodily integrity," lawyer Wendy Murphy said in an interview. Women's insistence that the crime is actually a matter of consent and violation of them as humans generated legislative complications. 
"The legal definition of non-consent discounts women's authority over their bodies," and ultimately gives "significant legal value to the rapist's opinion of the woman's state of mind," Murphy explained. Additionally, survivors are presented with "offensive and exceedingly onerous additional burdens of proof" to effectively receive justice. 
Legislation like the Violence Against Women Act and legislation combating marital rape were only established in the past few decades. Activists have even more recently started to leverage other, seemingly unrelated legislation to their advantage — like Title IX, legislation that ensures equal educational opportunities.
"Having to live around, have classes with and eat in the cafeteria with your assailant does jeopardize students' rights to equal education," Gilmore said. "Victimized students skip classes and avoid public spaces where their assailants may be, and their grades suffer. Their lives suffer."
In February, new legislation called the Sexual Assault Survivors' Rights Act was introduced into the Senate — and other legislative efforts are in the works.
6. There's plenty of work left to do.
While activists have undeniably come a long way in creating a more inclusive, comprehensive movement, there are still plenty who are affected by violence but inadequately defended. 
"We should be talking about and helping queer people, poor people, homeless people, undocumented people — those whose voices are often diminished and denied, and whose stories are immediately discredited," Gilmore noted. "We also need to talk about young people who may be of college age but aren't in college."
What's more, activists are beginning to question what justice truly means — and if it might lie beyond the criminal justice system altogether. Given the violence and racism that the prison system perpetuates, many survivors feel they must ask "how can we promote accountability while also respecting a survivor's idea of what justice is in the aftermath of their assault," activist Wagatwe Wanjuki told Mic in 2015. 
As Wanjuki concluded, perhaps the future of the movement should stop focusing on survivors and should normalize telling "rapists not to rape instead of telling survivors that they have to report."