Grammar Is Super Important On Online Dating Sites, So Try to Speak English Good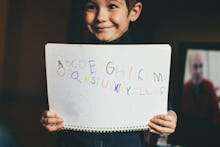 Self-professed grammar police, rejoice — you have your own holiday, and it's today, March 4. Happy National Grammar Day, you little assholes!
To honor this occasion, Zoosk (a web destination for singles), has released some enlightening statistics on how its users feel about letters and words and stuff. The results indicate that your grammar game could be having some serious implications for your dating game.
In short, if you find yourself getting chronically ghosted or no one ever wants to boinky-boinky with you, it could be because your texts are grammatically heinous and you don't know the difference between "there" and "their" (let's not even talk about "they're").
So, do make your best effort to proofread before sending!
Zoosk told Mic in an email that more than 1,200 single millennials were surveyed (within a larger survey of more than 9,000 users), and a slight majority of them (51%) said that poor grammar was an unequivocal dating deal breaker. Meanwhile, 64% of millennials said that blatant spelling errors were the biggest grammatical crime a prospective partner can commit in digital conversation.
But does any of this actually lead users to make snap judgments about a person's character? Yup! 23% of respondents said they believe that poor grammar indicates that someone is "uneducated or unintelligent", while 32% said it suggests that users "didn't take the time to proofread, so they must be lazy or just not care." 
That said, a more understanding 36% are willing to shrug off poor grammar as "nothing, they just made some mistakes." But if your prospective partner isn't in that last 36% of forgiving users, skipping out on third-period high school English might very well have cockblocked you for life. 
So the next time you find yourself interacting with a hottie on Zoosk (or, ya know, elsewhere), stroke your chin thoughtfully and ask yourself: Are my grammatical choices really representing who I am as a person?
h/t TODAY