Kendrick Lamar's New Album Features Production From Swizz Beatz's 5-Year-Old Son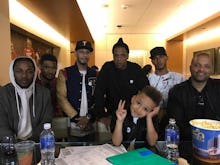 Kendrick Lamar stopped hearts across hip-hop when he surprise-released his mythic "Untitled" series on an album called Untitled Unmastered in the middle of Thursday night. The eight-track album is essentially a series of demos from his To Pimp a Butterfly sessions. From a Cee-Lo Green feature to a brutal possible Jay Electronica diss, it's already proving to be full of surprises. 
Producer Swizz Beatz revealed one of the most endearing of these surprises in a pairing of Instagram posts. His 5-year-old son Egypt apparently produced one of the beats that appears on "untitled 07 l 2014 - 2016."
"This is the best Dad moment ever!" Swizz wrote. "Congrats to my son Egypt for producing his first track on this amazing Kendrick album, he's only five years old." He tagged Alicia Keys, Egypt's mother, writing, "Look at our lil' guy baby #blessingsonblessings."
He even posted video of the creator in action, from his inspiration all the way through the execution. It may the most simultaneously adorable and awesome moment in hip-hop history since Nas' "I Know I Can" video.