Who Is Neve Campbell's Character on 'House of Cards'? 'Scream' Star Makes Mark on Season 4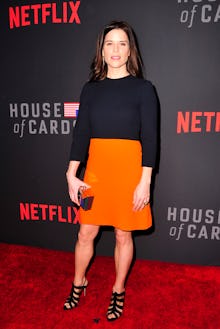 Kris Connor/Getty Images
Editor's note: If you haven't seen the first three seasons of House of Cards, this article contains spoilers!
In hindsight, perhaps making the transition from a horror franchise to House of Cards isn't that big of a transition — both are filled with evil, murderous and conniving characters. Neve Campbell, best known for her role in all four Scream films, is one of the new character additions to the political drama this season. 
Without giving too much away, she plays Leann Harvey, a Texas-based political advisor who is joining in on the ongoing drama between Frank (Kevin Spacey) and Claire (Robin Wright). Like Frank, Claire and the majority of the characters on the Netflix series, Leann will be attuned to the shady tactics of her colleagues — and will certainly add her own intrigue to the show's narrative. 
Read more: 'House of Cards' Season 4 Reviews: Critics Say It's More of the Same From the Underwoods 
One of the appealing aspects of the role is that Campbell is able to play a powerful female character. "It's nice, as a 42-year-old woman in this industry to get a character who is unapologetic and strong and not a victim," Campbell told USA Today. 
Similarly to other House of Cards characters, Leann has a willingness to do whatever it takes for political ascension. Of course, the series is well-known for the great lengths other characters will go to keep secrets safe and earn trust in powerful places. Most notably, Frank kills Zoe (Kate Mara) at the beginning of season two, while Doug (Michael Kelly) kills Rachel (Rachel Brosnahan) — even though she's changed her identity and wants to remain hidden.  
"Leann is very ambitious," Campbell said, in an interview with the Hollywood Reporter. "She's been very successful in her own right already, but when she's looking to the White House, I'm not exactly sure where she's going. But getting in bed with these two is certainly not a bad thing. Not in bed like Meechum did." 
You can check out Campbell's character in season four of House of Cards — which is now available in full to stream on Netflix.