12 of the Best Memes From When Drake Was on 'Degrassi,' aka When Drake Popped an Erection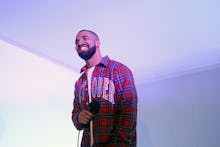 Drake may be one of the most suave, lucrative rappers out there, but he'll never entirely escape the persona of Jimmy, the pubescent boy he played for several seasons on the Canadian teen soap opera Degrassi. In retrospect, it's clear Drake was using the TV show as a launchpad for his rap career. His character embodied a wannabe trying to break into the rap game — and it made for some classically golden memes to remind us that Drake took quite the unique route to becoming one of the biggest names in hip-hop today.
Read more: 7 Charts Show How Drastically Kanye West's Music Has Evolved
Here are 12 of the best memes of Drake's adolescent boy character Jimmy on Degrassi:
He was a baller since birth.
He had a passion for french fries.
So just shut up and give him the fry, dammit. 
"You just 100% fake/ Ask about me, bitches call me Drake."
Jimmy wasn't about that life.
Awkward.
He put condoms to better use.
Apparently he didn't live by the "kush rolled, glass full" motto.
He dabbled in rap on Degrassi High's morning broadcast.
But his rap skills weren't quite as sharp as they are now.
But he clearly dgaf now.