7 Drake Quotes That Prove He'll "Take Care" of You When No One Else Will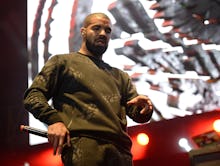 Scott Dudelson/Getty Images
As one of the industry's biggest rappers, Drake is a man of many wise words. He's also a caring guy, apparent by his 2011 hit song "Take Care" in which he and Rihanna tenderly mend each other's broken hearts — broken by other people, mind you. But the rest of the world shan't fret, because here are seven quotes where Drake proves that he's just a wise sage looking out for everyone. 
Read more: 10 Drake Lyrics That Prove Sad Drake — Is the Best Drake
After all, life is hard — and Drake is no stranger to expressing his saddest emotions and wrangling his feels. Let his wisdom guide your life choices.  
1.  
2. "Wanted to tell you, 'Accept yourself'/ You don't have to prove shit to no one except yourself/ And if you end up needing' some extra help, then I could help/ You know, back on your feet and shit" — "Tuscan Leather"
3. "People around you should really have nothing to say/ Me, I'm just proud of the fact that you've done it your way" — "The Real Her"
4. 
5. "I'm just saying you could do better/ Tell me have you heard that lately?" — "Marvin's Room"
6. "I know you left me once/ But I came right back to find you/ Even though I like being in your past/ You got a bright future behind you" — "Celebration"
7.