Atlanta Falcons Coach Asked NFL Prospect Eli Apple, "Do You Like Men?" at Scouting Event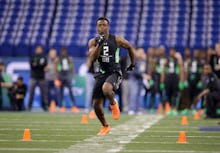 People say weird stuff on the football field, but this is just inappropriate — and possibly illegal. 
In an interview with Comcast SportsNet in Philadelphia on Friday, Ohio State University cornerback Eli Apple revealed the "strangest question" he was asked at the February scouting combine in Indianapolis.
Here's what he said, via Deadspin:
"The Falcons coach, one of the coaches, was like, 'So do you like men?' It was like the first thing he asked me. It was weird. I was just like, 'no.' He was like, 'if you're going to come to Atlanta, sometimes that's how it is around here, you're going to have to get used to it.' I guess he was joking but they just ask most of these questions to see how you're going to react."
Joke or not, the question, "Do you like men?" violates NFL policy, as well as basic anti-discrimination laws, if the intent proves to be discriminatory. 
NFL combines are basically job interviews for players, so this is akin to asking any other prospective employee for their sexual orientation.
The topic is especially touchy since 2014, when then-University of Missouri defensive back Michael Sam became the first openly gay NFL prospect in history. 
The move proved to be controversial for some, as multiple NFL scouts and team general managers expressed their hesitation at having Sam in their locker rooms.
"There are guys in locker rooms that maturity-wise cannot handle it or deal with the thought of that," one NFL assistant coach said anonymously to Sports Illustrated. "It's going to be a big distraction. That's the reality. It shouldn't be, but it will be."
Atlanta Falcons head coach Dan Quinn has since apologized to Apple. From CSN Philadelphia, via Deadspin:
"I am really disappointed in the question that was asked by one of our coaches. I have spoken to the coach that interviewed Eli Apple and explained to him how inappropriate and unprofessional this was. I have reiterated this to the entire coaching staff and I want to apologize to Eli for this even coming up. This is not what the Atlanta Falcons are about and it is not how we are going to conduct ourselves."
The NFL Draft will be held April 28 to 30. 
h/t Deadspin