Whole Foods Stocked Pre-Peeled, Packaged Oranges and Twitter Went Full Twitter on Them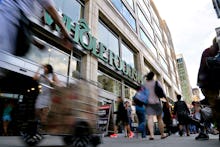 On Friday, Nathalie Gordon spread the word of a disturbing scene in a California Whole Foods — one even more disturbing than chocolate beet cacao ice cream. 
Gordon tweeted a photo she found on Imgur of a Whole Foods shelf stocked with pre-peeled oranges in plastic containers. 
"If only nature would find a way to cover these oranges so we didn't need to waste so much plastic on them," she wrote.
Read more: Black Twitter Tore Whole Foods Apart for Its Yuppie Twist on Collard Greens
Her tweet attracted thousands of replies, forcing the oft-ridiculed supermarket to take action...
...but not before Twitter could get in a few good jabs:
The absurdity of Whole Foods, which counts "wise environmental practices" among its core values, perpetrating such an eco-unfriendly crime didn't elude people.
Yet another drew a timely and indisputable parallel: 
But amid the chorus of jokes and criticism, others noted that the packaging is actually helpful for those with disabilities that prevent them from being able to peel fruits. So when Whole Foods announced it was pulling the product off its shelves, many expressed disappointment:
One Twitter user reminded everyone that accessibility and environmental consciousness don't have to be mutually exclusive:
Damned if you do, damned if you don't.