Amy Adams Reveals She Was Paid Less Than Her Male 'American Hustle' Co-Stars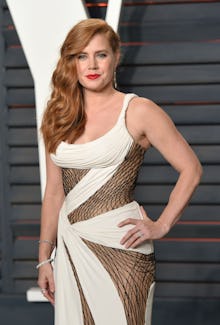 Actress Amy Adams may have been a star on the set of the 2013 film American Hustle, but she sure wasn't treated like one. In a recent interview with British GQ, Adams opened up about her experience working on the film and knowing she was making less money than her male co-stars, Christian Bale, Bradley Cooper, and Jeremy Renner, according to the Associated Press.
Read: Kristen Stewart Tells Those "Complaining" About Gender Equality in Film to "Do Something"
"I knew I was being paid less and I still agreed to do it because the option comes down to do it or don't do it," she told British GQ. "So you just have to decide if it's worth it for you. It doesn't mean I liked it."
She also discussed the difficulties of working on set with director David O. Russell, saying, "I was really just devastated on set. I mean, not every day, but most. Jennifer [Lawrence] doesn't take any of it on. She's Teflon. And I am not Teflon. But I also don't like to see other people treated badly ... It's not ok with me."
Back in October, Adams' co-star in the film, Jennifer Lawrence, penned an op-ed for Lena Dunham's newsletter, Lenny, in which she discussed the gender pay gap in Hollywood and specifically mentioned being paid less than her male co-stars in American Hustle.
When asked about Lawrence's letter, Adams told GQ, "I'm really proud of Jennifer. What I liked is that it was not necessarily about getting paid, or not getting paid ... It's like we [women] have been conditioned to not be controversial, to not cause problems. It's about finding your voice."