Mount Saint Charles Academy in Rhode Island to Reject Transgender Applicants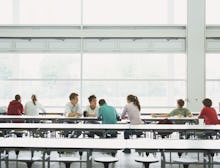 School's out — for the whole year. 
Mount Saint Charles Academy in Woonsocket, Rhode Island has made it clear that transgender students will not be allowed to matriculate their campus, saying that they are "unable to make accommodations for transgender students."  
"MSC does not accept transgender students nor is MSC able to continue to enroll students who identify as transgender," the 2015-2016 Parent and Students Handbook reads, according to GoLocalProv, who broke the story. 
The school posted an official statement to their Facebook page on Friday. 
"The policy that currently appears in the Mount Saint Charles Student Handbook is not intended to be discriminatory toward [transgender] students nor is Mount Saint Charles Academy's intent or desire to exclude transgender students," the statement reads. "The policy was put in place for the simple reason that Mount Saint Charles feels that its facilities do not presently provide the school with the ability to accommodate transgender students." 
Students and alumni have already responded to the school's post.
The Academy's reviews section of their page has since been inundated with messages written to the school, one of which includes a link to a page called "No Hate at MSC." 
"I am so embarrassed to say I had any affiliation with Mount Saint Charles," one reviewer wrote. 
"This is an institution run by great people, and I know you can do the right thing and amend this policy," another reviewer wrote. 
"I'm very sad to see you are actively practicing discrimination in the school I attended," said yet another reviewer.
According to GoLocalProv, it is currently unclear whether any students were asked to leave the school. 
"As a constitutional matter, the fact that the school receives some state aid is not sufficient to subject them to constitutional constraints, which generally apply only to government actions," Steven Brown, executive director of the Rhode Island ACLU told GoLocalProv. "There are, of course, separate statutes that ban discrimination in both public and private institutions, but many of those statutes have exemptions for religious institutions."
While some schools are making strides to accept transgender students, trans students still face a lot of obstacles nationwide, not the least of which is equal access to bathrooms. Or, you know, just going to school and feeling like they are valued. 
According to Mount Saint Charles Academy's mission statement, "Each and every student is known, valued, treasured and taught in partnership with the family."