Donald Trump Supporter Who Verbally Harassed Black Woman During Rally Denied by Marines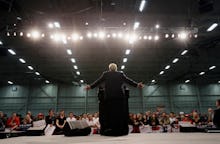 Joseph Pryor just made two major mistakes — behaving hatefully and broadcasting his apparent bigotry on Facebook. Pryor made headlines this week when he was dismissed from the Marine Corps training program, a decision that came after the young man attended a Donald Trump rally on Tuesday in Louisville, Kentucky and was filmed shouting and pushing Shiya Nwanguma, a black woman who was forcibly removed from the event. 
Pryor's superiors learned of the behavior after he uploaded a photo of him yelling at the Trump rally to his Facebook page. 
"Joseph Pryor has demonstrated poor judgment in his use of social media that associates him with a racially-charged altercation at a political rally," a U.S. Marine Corps spokesperson said in a statement, WDRB reports. "Hatred toward any group of individuals is not tolerated in the Marine Corps, and he is being discharged from our Delayed Entry Program."
Read more: Black Woman Thrown Out of Donald Trump's Super Tuesday Rally in Kentucky
The photo, which Pryor set as his cover photo, started to attract attention — and not in a good way. Here's just some of the dialogue that happened on social media since Tuesday, the vitriolic nature of which may have prompted Pryor to first switch his cover photo and then delete his Facebook account.
Though it's hardly been the case when it comes to Trump and the divisive policy proposals he trumpets, at least in this instance, dignity triumphed over hate. 
Here's footage from Tuesday's rally: