Leaked Donald Trump Voicemails Reveal MSNBC Hosts and Tom Brady Among Candidate's Friends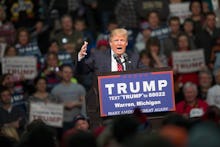 Republican candidate and real estate tycoon Donald Trump's alleged voicemail inbox shows he's cozy with MSNBC hosts and gets a nice discount at Gucci. Gawker reported Friday that it received an anonymous email with an audio attachment that the source claimed was the GOP front-runner's voicemail inbox — and it's full. The recording contained 21 messages, including voicemails allegedly from liberal MSNBC hosts Tamron Hall, Joe Scarborough and Mika Brzezinski and Patriots quarterback Tom Brady, among others, that show they like him a lot. 
Read more: Watch These Trump Supporters Gush Over Hitler Quotes They Mistook for the Donald's
"It's T Hall," a woman who Gawker identified as MSNBC's Hall said in one of her two message to Trump. She thanked him for setting up a meeting with a guy named "Matt" for her that she said said "was pretty cool," and that she was going to celebrate by buying a $3,000 Gucci dress using his discount because it's bigger than hers. In her second message, reportedly from 2012, she said she was a "huge fan," emphasis on huge, and thinks "the world" of him but scolded him for an unidentified YouTube video she saw of him that day. 
Hall hasn't used that friendly tone in her aggressive coverage of his 2016 presidential bid. 
Scarborough and Brzezinski left their alleged voice message together on an unknown date, according to the report. In it, Scarborough had his kids thank Trump on speaker for an unknown reason that he "just wanted to call [Trump] and tell [him] how much it means to us." Brzezinski chimed in that "it was amazing."
The email attachment also included voicemails from Brady, Barack Obama's advisor David Axelrod and boxing promoter Don King, who all allegedly spoke to Trump in a quite congenial manner, according to Gawker.
This comes as Trump's leading opponents Florida Sen. Marco Rubio and Texas Sen. Ted Cruz urge Trump to allow the New York Times to release a full transcript of a newspaper interview he had that was partly off the record.