North Korea Is Threatening Nuclear War Against the US (Again)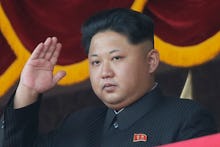 Once again, North Korea's state-controlled media is reporting the power and capability of the country's nuclear program. "Under the extreme situation that the U.S. Imperialist is misusing its military influence and is pressuring other countries and people to start war and catastrophe, the only way for our people to protect sovereignty and rights to live is to strengthen the quality and quantity of nuclear power and realize the balance of power," North Korea's leader, Kim Jong Un, announced on Friday through KCNA, the country's news agency, reports CNN.
Read: Otto Frederick Warmbier, US Student Detained in North Korea, Reportedly Confesses
The announcement may be a response to a decision made earlier this week by the United Nations Security Council to put new sanctions on North Korea after the country conducted a missile launch and nuclear test in violation of existing international sanctions. In September, North Korea made a similar threat toward the U.S., echoing the same rhetoric about American hostility. 
According to the state-run KCNA, Kim Jong Un announced that "nuclear warheads need to be ready for use at any time," reports CNN.
The Pentagon issued a response to the news out of North Korea on Friday, saying, unsurprisingly, "We are aware of the reports. We are closely monitoring the situation on the Korean Peninsula in coordination with our regional allies. We urge North Korea to refrain from provocative actions that aggravate tensions and instead focus on fulfilling its international obligations and commitments."
"The threat here is, to me right now, it's a lot of bluster," Philip Yun, executive director of the Ploughshares Fund, a non-profit that focuses on preventing and reducing nuclear stockpiles worldwide, told CNN. "For them to deliver on a threat, they have to have intent and they have to have capability. And quite frankly, I don't think they have both."