This Armed Mosque Protester Explains Why Donald Trump's Anti-Muslim Stance Is Too Extreme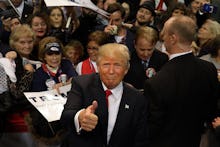 You might assume mosque protester David Wright would be a fan of 2016 presidential candidate Donald Trump, but you'd be wrong. In an interview with Public Radio International, the leader of the Bureau of American Islamic Relations said that he (and the majority of the people he associates with) are not Trump fans. 
In fact, even though Wright and his group stand armed outside Dallas-area mosques, they claim Trump's proposed ban on all Muslims is ludicrous. 
"It's inefficient, ineffective, and it opens the door for him to be labeled a racist and a bigot and it takes the spotlight off the actual concern, which is our safety and security. I don't want someone like that running my country," Wright told PRI. Wright also said he and his friends voted for presidential hopeful Sen. Ted Cruz. 
Wright's position on Trump is very nuanced. When PRI asked if he considered Trump a racist, he said, "I don't know him, so I can't really say that. I can say that some of the things he says lead you to believe that, some of his actions have lead me to believe that."
Wright was disappointed Trump waited too long to denounce former KKK Grand Wizard David Duke, but knew he did so because "[Trump] knows he's got the racist vote. He doesn't care that they're racist. He just wants their votes."
Wright wished the United States would help its veterans rather than refugees from war zones like Iraq, Syria or Afghanistan. He did, however, welcome Muslims who would bring jobs to the United States. 
"I mean, why not? We've always been a nation of immigrants," Wright said. "Even if a Muslim man from Dubai wanted to come and stay here permanently, I don't have a problem with that. If he's a business owner and he's going to create jobs, that's fine. Come here, create jobs here, hire our people. I welcome that, all day long, every day. That will make America better. We need jobs."
Though he is armed at these protests, Wright said he doesn't condone violence and that BAIR is armed for self-defense purposes. However, he said, some armed non-BAIR people show up to their protests, and they worry him. 
"I'm also concerned with people from my side of things being crazy, too. There are a lot of guys in the militia-type movement that aren't right in their head. Some of them, I don't trust them," he told PRI. 
Wright and his group are very controversial, and are classified as a hate group by the Southern Poverty Law Center. In November, the Guardian reported that they posted names of Muslims and "Muslim sympathizers" on their Facebook page. Facebook eventually took the post down.
But Wright told the Dallas Morning News that his group is only against "Islamist radicals" and that all of his protests have "ended peacefully." 
"You'd think at some point people would figure it out," he told the Morning News. "We're not there to hurt anybody."
The Southern Poverty Law Center claimed in their annual report that the number of hate groups in the United States rose 14% in 2015. They spoke to PRI about Wright and BAIR, as well. 
"While it's very nice that the Bureau of American Islamic Relations believes that Donald Trump has gone too far in his attacks on Muslims, the reality is that the group is really no better," Mark Potok, SPLC senior fellow, told PRI. "When you parade around in front of mosques while carrying heavy weapons, it's perfectly clear that your aim is to intimidate and demonize anyone whose faith is Islam, just as Trump has done."
Ibrahim Hooper, spokesman for the Council for American Islamic Relations, told PRI that he believes that even if BAIR claims anti-violence, the presence of guns at a mosque is too far. 
"Any time you force worshippers to walk through a cordon of armed men, that's an act of intimidation in and of itself. That sends a message that as a religious minority they are not welcome and that they don't have the same freedom to practice their faith that every other American does," Hooper told PRI.
He continued, "The fact that you have an anti-Muslim hate group saying a candidate has gone too far really tells you where we are in this presidential election."