Immigration Judge Argues 3-4 Year Olds Can Represent Themselves in Court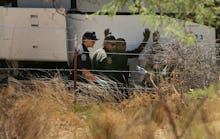 An ACLU lawsuit demanding children accused of immigration violations be provided with a taxpayer-funded attorney has met with a bizarre response from a federal official.
Jack H. Weil, a senior Department of Justice official and immigration judge, argued children as young as 3 or 4 years old are not necessarily entitled to taxpayer-funded attorneys, "I've taught immigration law literally to 3-year-olds and 4-year-olds," reported the Washington Post.
Weil's comments came during sworn testimony in a federal court in Seattle.
"It takes a lot of time," Weil continued. "It takes a lot of patience. They get it. It's not the most efficient, but it can be done."
"I've told you I have trained 3-year-olds and 4-year-olds in immigration law," he repeated later. "You can do a fair hearing. It's going to take you a lot of time."
According to the Post, Weil says he was taken out of context, but holds a supervisory role in the training of immigration judges nationwide. He was also not describing an unheard-of scenario — between July 2014 and December, 42% of 20,000 child deportation hearings involved no defense attorney, the paper reported.
As MSNBC reported, that's because immigration violations aren't handled in the same court system as other offenses and defendants do not "automatically receive legal representation — there are no universal, taxpayer-funded public defenders in the immigration system."
Statistics show less than half of children who appear in immigration court receive the services of an attorney, although those who do have significantly better odds of beating the system and remaining in the U.S.
"When ThinkProgress accompanied a 12-year-old border crosser with her legal representative in an Arlington, Virginia-based immigration courtroom last year, the judge asked questions involving various legal jargon like 'deportation' and 'Special Immigrant Juvenile Status,' a special form of immigration relief for children," ThinkProgress wrote. "Without the legal representative present, it's unlikely that the shy middle schooler could have answered the questions on her own."
"The law uniformly presumes in every other area that younger children lack the mental capacity to make consequential decisions," Columbia University law professor Elizabeth S. Scott told the Post.
Weil's comments come amid a larger battle about what to do with tens of thousands of unaccompanied minors who have arrived in the U.S. in recent years.
In 2014, as many as 10,000 children a month began crossing into the U.S. via the southern border without any adult accompaniment, a surge that restarted in late 2015. The vast majority of the children were fleeing poverty and crime in the Latin American countries of Guatemala, Honduras and El Salvador.