17 Photos of Riot Police Seizing Control of Turkey's Largest Newspaper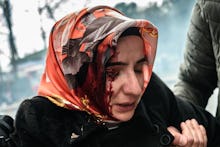 Riot police stormed the offices of Turkey's largest newspaper on Friday, taking over the headquarters of Zaman and its English-language equivalent, Today's Zaman, reported the Los Angeles Times.
Heavily armed police used pepper spray, tear gas, water cannons and physical force against a combination of protesters and staff, earning the condemnation of much of the country's media establishment and international observers, including Amnesty International and the State Department.
"Our media institutions are being seized," Sevgi Akarcesme, Today's Zaman editor-in-chief, told crowds, per the Times. "As of today, the constitution has been suspended."
According to BBC, the authorities were operating under a court order to bring the publications under state control. Zaman staff managed to get one final edition to print, but on Saturday found out they had been locked out of the paper's email accounts, servers and that editor-in-chief Abdulhamit Bilici had been fired.
The New York Times reported the raid is one facet of Turkish President Recep Tayyip Erdogan's war on opposition journalists and political supporters of Fethullah Gulen, a "Muslim cleric affiliated with the newspaper who lives in exile in Pennsylvania ... once an ally of Mr. Erdogan's but now a bitter enemy." Erdogan's government claims Gulen is the head of an extensive terrorist network.
As the L.A. Times noted, "Prosecutors have opened at least 1,845 cases of 'insulting the president' since Erdogan rose to the presidency in August 2014 with 52% of the vote." Erdogan has cracked down on numerous protests during a rule outside observers call increasingly authoritarian, including a June 2015 crackdown on a gay pride parada.