Louis CK Blasts Trump in Email: "The Guy is Hitler"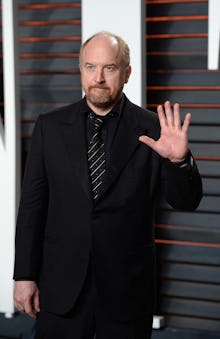 Comedy legend Louis C.K. has joined the long list of figures in American public life to condemn Republican presidential front-runner Donald Trump, comparing the candidate to pre-World War II Adolf Hitler and calling him a "cancer" in an email blast to fans.
In a postscript to an email about the sixth episode of his web series Horace and Pete, Variety reports, C.K. asked conservative fans not to vote for Trump, compared him to Hitler and told his supporters "you have to know this is not healthy."
"It was funny for a little while," C.K. wrote. "But the guy is Hitler. And by that I mean that we are being Germany in the '30s. Do you think they saw the shit coming? Hitler was just some hilarious and refreshing dude with a weird comb over who would say anything at all."
C.K. wrote U.S. politics needs "a good smart conservative to face the liberal candidate so they can have a good argument and the country can decide which way to go this time. Trump is not that. He's an insane bigot. He is dangerous."
"And really I don't mean to insult anyone," C.K. concluded. "Except Trump. I mean to insult him very much. And really I'm not saying he's evil or a monster. In fact I don't think Hitler was. The problem with saying that guys like that are monsters is that we don't see them coming when they turn out to be human, which they all are. Everyone is. Trump is a messed up guy with a hole in his heart that he tries to fill with money and attention. He can never ever have enough of either and he'll never stop trying. He's sick."
C.K.'s disavowal of Trump comes as numerous high-profile Americans have stepped up to attack the candidate, who is leading by a large margin in electoral votes for the Republican nomination.
This week, none other than 2012 Republican presidential nominee Mitt Romney gave a speech urging GOP voters to reject Trump, asking the party's electorate to think "of Donald Trump's personal qualities, the bullying, the greed, the showing off, the misogyny, the absurd third grade theatrics."
Read the rest of C.K.'s email courtesy of Variety.