Cruz and Trump, Sanders and Clinton Split Super Saturday Contests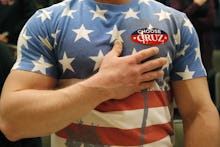 Ted Cruz steamrolled over Republican presidential frontrunner Donald Trump in the Kansas caucuses in heavy "Super Saturday" voting and racked up a win in Maine, signaling the fight isn't yet over for the GOP nomination.
Cruz walked away with 24 of 40 Kansas delegates to Trump's nine, while Marco Rubio scored six, leaving one for John Kasich.
"The scream you hear, the howl that comes from Washington, D.C., is the utter terror at what we the people are doing together," Cruz told fans in Coeur D'Alene, Idaho after the Kansas win, per the Associated Press.
Kansas and Maine Republicans handed the gold to Cruz, the self-styled representative of the party's most conservative wing, as various factions of the GOP leadership tried to join forces to trip up Trump' in a sprint to the nomination.
Trump carried Louisiana, adding to a string of victories in Southern states that began with his win in the Feb. 20 South Carolina primary — and demonstrating that not all voters are buying the anti-Trump pleas of party elders including Mitt Romney and John McCain.
The billionaire frontrunner also pulled out a win after a tight race against Cruz in Kentucky, with the AP finally calling it for Trump at 10:46 p.m.
Trump campaigned in Florida on Saturday, gearing up for the March 15 vote in a state with 99 delegates.
So did Marco Rubio, the Florida senator who's been trying — with markedly limited success — to set himself up as the man to unify the party by both upholding conservative ideals and drawing newcomers to the GOP.
Time to go, Marco? During a primary-night news conference in West Palm Beach, Florida, Trump said "it's time for Marco to [clear] the deck" and get out of the race after a series of disappointing finishes.
"Marco has to get out the race. Has to," said Trump, who's had increasingly bitter exchanges with Rubio, who had already headed to Puerto Rico ahead of Sunday's primary.
Trump also complimented Cruz on winning two states — although, in a backhanded allusion to the controversy over the Texan's birthplace, he added that Maine is "very close to Canada."
It takes a total of 1,237 delegates to capture the Republican nomination. As of Saturday night, Trump had at least 375 to Cruz's 291 in an AP tally.
Weekend at Bernie's: On the Democratic side, Bernie Sanders won the Kansas caucuses, defeating national frontrunner Hillary Clinton according to an announcement by the Kansas Democratic Party on Facebook at 8:37 p.m.
"People used to ask, 'What's the matter with Kansas?' It turns out that there's nothing the matter with Kansas when you give people a clear choice and involve them in the democratic process,"  Sanders said in a campaign statement.
"We have a path toward victory. Our campaign is just getting started and we are going all the way to the Democratic National Convention in Philadelphia."
Sanders, the Democratic socialist who's fired up legions of young voters, scored another win in the Nebraska caucuses. 
Blue Bayou for Hillary: Clinton, who's been the main target of GOP attacks by those with an eye to November, scored an overwhelming win in the Louisiana caucuses, with the AP calling the race at 9:15 p.m.
"We're going to stand up to all those who put special interests ahead of America's interests," Clinton told supporters at a results-watch rally in Detroit.
She pointed to the tainted water scandal in Flint, Michigan as another case in which "poor people and people of color have been left behind" — a situation she said she'd strive to correct.
"I'm running for president to tear down all the barriers that stand in the way of every American. There is no barrier we can't tear down [if] we stand together," she said ahead of Michigan's Tuesday Democratic primary. 
The Sanders wins help him, but he remains an underdog in the delegate fight with Clinton.
"Going into the weekend contests, Clinton had held a comfortable 198-delegate lead over Sanders, based on results from primaries and caucuses," the AP noted.
The Democratic nominee needs 2,383 delegates. As of Saturday, the AP count as published by the New York Times — including superdelegates — stood at 1.117 for Clinton to 477 for Sanders.
Fight to the finish: Prior to the weekend's contests, Trump had a strong Super Tuesday showing, scoring victories in Alabama, Arkansas, Georgia, Tennessee, Virginia and Vermont. 
Cruz blocked Trump from a clean sweep, however, carrying the day in his home state of Texas and scoring victories in Oklahoma and Alaska.
Rubio won the Minnesota caucuses — his only victory of the entire cycle to date.
Cruz also ended up winner of the straw poll conducted at CPAC, an annual gathering of young conservative activists just outside Washington, D.C. Rubio made his pitch to the grassroots crowd there, but Trump skipped the event.
What's next? The candidates compete again on March 8 in Idaho, Hawaii, Michigan and Mississippi.
Then there's a volley of critical March 15 contests in states including Florida, Illinois and Ohio — the third of which is the best hope of a win for the fourth Republican still in his party's race, Ohio Gov. John Kasich.
First, Clinton will appear on Fox News Channel for the first time in two years Monday night when she and Sanders participate in a Democratic town hall at the Gem Theatre in Detroit.
On March 10, the Republican hopefuls head to Miami for a debate hosted by CNN.