Louis CK Compares Donald Trump to Hitler in 1,400-Word Letter, Semi-Endorses John Kasich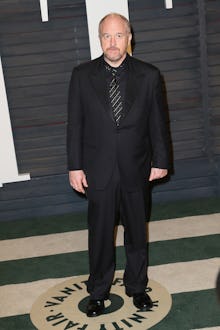 Comedian Louis C.K. went after Republican presidential candidate Donald Trump in a 1,400-word email letter, comparing the billionaire businessman to the Führer of Nazi Germany, Adolf Hitler, Saturday morning.
"Please stop it with voting for Trump," C.K. wrote in his letter, according to USA Today. "It was funny for a little while. But the guy is Hitler. And by that I mean that we are being Germany in the '30s. Do you think they saw the shit coming? Hitler was just some hilarious and refreshing dude with a weird comb-over who would say anything at all."
Read more: Here's the Full Text of Mitt Romney's Speech on Donald Trump
C.K. is the latest public figure to openly criticize Trump. Former presidential candidate Mitt Romney gave a scorching indictment of the candidate in a speech at the University of Utah on Thursday. 
"I'm not advocating for Hillary [Clinton] or Bernie [Sanders]," the comedian added, encouraging voters to select another candidate. "I like them both but frankly, I wish the next president was a conservative only because we had Obama for 8 years and we need balance... Please pick someone else. Like John Kasich."
"Trump is not your best. He's the worst of all of us. He's a symptom to a problem that is very real. But don't vote for your own cancer. You're better than that."