Democratic Presidential Debate in Flint, Michigan: Channel, Start Time and Livestream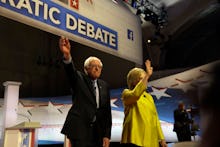 Tom Lynn/AP
The city of Flint, Michigan, the beleaguered city currently undergoing a water crisis, will be the latest stop on the road to the White House for Sen. Bernie Sanders and former Secretary of State Hillary Clinton. The next Democratic debate will take place in Flint at 8 p.m. Eastern on Sunday, March 6. The event will take place at the The Whiting Auditorium in the city. The debate will be available for livestream online at CNN.com.
Read more: Everything You Missed From the Republican Debate in Detroit
"Our Democratic candidates have run spirited campaigns focused on how to best move our country forward, and our upcoming debate in Flint, Michigan is a critical setting to highlight what's at stake in these elections," DNC Chair Rep. Debbie Wasserman Schultz told CNN. "This debate is an opportunity to elevate the very serious issues facing the residents of Flint, and it's also an opportunity to remind voters what Democratic leadership can do for the economy — so that everyone in America has a fair shot."
The debate, which occurs two days before the Michigan and Mississippi primaries, needs to be a strong showing for Sanders, who currently holds 479 delegates. Clinton, who holds 1,121 delegates, is dominating the race to secure the 2,383 delegates to become the nominee for the Democratic Party in November. 
Tickets were not available to the public, and only some were given to Flint residents, local, state and national leaders.
"As with all of our debates, tickets have been made available through a variety of stakeholders, including the two presidential campaigns, the state Democratic party, the University of Michigan-Flint, and CNN, and that process always includes the people who live in and represent the cities and states that host us. In fact, CNN has made several hundred tickets available directly to Flint residents," DNC spokesperson TJ Helmstetter told MLive.
The seventh Democratic debate will be televised live by CNN, in cooperation with MLive and the Flint Journal.