Nina Simone's Daughter Defends Zoe Saldana From "Unfortunate" Biopic Backlash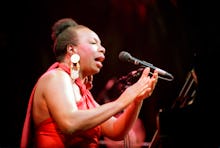 Nina Simone's daughter, Lisa Simone Kelly, has come to the defense of Zoe Saldana, whom trolls have recently taken to task for her portrayal of the iconic singer in the forthcoming biopic, Nina. 
When the movie's poster and trailer were released in early March, Simone fans were angered to see Saldana made up in what looked uncomfortably close to blackface and sporting a prosthetic nose, approximating the appearance of a woman she doesn't particularly resemble.
Read more: Zoe Saldana's Makeup in the New Nina Simone Trailer Is Making People Really Uncomfortable
"It's unfortunate that Zoe Saldana is being attacked so viciously when she is someone who is part of a larger picture," Simone Kelly, who's long been against the film, told Time. "It's clear she brought her best to this project, but unfortunately she's being attacked when she's not responsible for any of the writing or the lies."
The epicenter of the casting outrage was the Simone estate's own Twitter account, which responded to the actress's tweet of a quote from the civil rights activist with the request that she "please take Nina's name out of [her] mouth. For the rest of [her] life." The tweet, according to Simone Kelly, was published by a friend of the family. 
Although Simone Kelly feels badly for Saldana, whom she says doesn't deserve the backlash, she is upset by the project's overarching failure to stick to Simone's story. Nina inadequately represents her mother's life, she explained, but she's grateful to the makers of the Oscar-nominated documentary, What Happened Miss Simone? for presenting the real story.
"I'm no longer bothered by it because the truth is already out there," she told Time.