Flint Democratic Debate: Bernie Sanders and Hillary Clinton Comments On Flint Water Crisis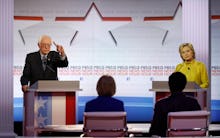 Morry Gash/AP
As Democratic presidential candidates Hillary Clinton and Sen. Bernie Sanders descend on Flint, Michigan for the seventh Democratic debate, both have openly condemned the current water crisis plaguing the city. 
Read more: 22 Powerful Photos Show the Devastating Reality of Flint's Water Crisis
"There is no excuse for what's happening in Flint," Clinton said in a statement in January, according to the Detroit Free Press. "A city of 99,000 people — a majority of them African-American, 40% in poverty — spent nearly two years drinking and bathing in water that we now know contained dangerous amounts of lead ... I'm calling on the state of Michigan to finance water purchases from Detroit until safe drinking water is fully restored in Flint."
A few days after, Clinton commented on the Flint water crisis at the fourth Democratic debate. "I spent a lot of time last week being outraged by what's happening in Flint, Michigan, and I think every single American should be outraged," Clinton said at the NBC News-sponsored debate in South Carolina. "We've had a city in the United States of America where the population, which is poor in many ways, and majority African-American, has been drinking and bathing in lead-contaminated water — and the governor of that state acted as though he didn't really care."
"I'll tell you what: If the kids in a rich suburb of Detroit had been drinking contaminated water and being bathed in it, there would have been action," she said in a scathing criticism against Michigan Governor Rick Snyder. 
However, Clinton's remarks have been met with criticism. "Don't jump on a cause just to get votes," Flint Lives Matter organizer Calandra Patrick told the Guardian, during the former secretary of state's February visit to the city. "It doesn't matter to me if she makes an appearance or not – it doesn't matter to me one bit." 
Sanders has taken a more critical approach, asking Snyder to resign from his position. 
"There are no excuses. The governor long ago knew about the lead in Flint's water. He did nothing. As a result, hundreds of children were poisoned. Thousands may have been exposed to potential brain damage from lead. Gov. Snyder should resign," he said in a statement. "Because of the conduct by Gov. Snyder's administration and his refusal to take responsibility, families will suffer from lead poisoning for the rest of their lives. Children in Flint will be plagued with brain damage and other health problems. The people of Flint deserve more than an apology."
At the fourth Democratic debate, following Clinton's comments, Sanders repeated his demand for the governor's resignation. "Secretary Clinton was right, and what I did was, which I think is also right, is to demand the resignation of the governor," the Vermont senator said to the crowd in South Carolina. "A man who acts irresponsibly should not stay in power."