Former First Lady Nancy Reagan Dies At 94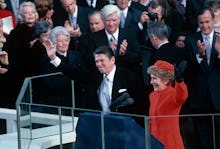 Former first lady Nancy Reagan died Sunday at 94 years old, TMZ first reported. 
The originator of the "Just Say No" to drugs campaign and widow of 40th President of the United States Ronald Reagan was living in the Bel Air neighborhood of Los Angeles when she died, according to the gossip site. CBS News and ABC News also confirmed Reagan's death. Reagan died of congestive heart failure, according to Joanne Drake, spokeswoman for the former first lady. 
"Nancy Davis Reagan, former First Lady of the United States, died this morning at her home in Los Angeles at the age of 94. The cause of death was congestive heart failure," the statement read. "Mrs. Reagan will be buried at the Ronald Reagan Presidential Library in Simi Valley, California, next to her husband, Ronald Wilson Reagan, who died on June 5, 2004."
"It is a very sad day," former Ronald Reagan Chief of Staff Ken Duberstein said to NBC News.
Born in New York City, Reagan studied theater at Smith College in Massachusetts. Her career as an actress led her to meeting her future husband Ronald Reagan, also an actor, in the '50s. After marrying the former President in 1952, her husband later became California governor in 1967, where Nancy Reagan volunteered her time with philanthropic organizations and spent time visiting the elderly, veterans and the disabled. 
After her husband's death due to a hard-fought battle with Alzheimer's disease, Nancy Reagan raised millions of dollars for research towards the disease. Notably, the former first lady broke with conservative Republicans to back stem cell research.
"Nancy Reagan embodied what it means to represent America as First Lady and her dignified and warm demeanor inspired America," said Republican National Committee (RNC) Chairman Reince Priebus said in a statement. "Mrs. Reagan will go down in history as a woman who left her own mark on the White House and our country. She was a longtime friend and supporter of many in our party, and will be sorely missed. My thoughts and prayers are with the entire Reagan family and all those who she so deeply touched over the years."