Iran Sentences Billionaire to Death For "Spreading Corruption on Earth"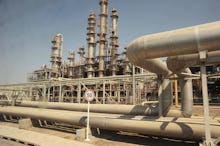 An Iranian court has sentenced 41-year-old Babak Zanjani, a man who at one point was valued at nearly $14 billion, to death.
BBC reports the sentence was handed down for fraud and economic crimes related to Zanjani's efforts to help the Iranian government evade sanctions on oil exports. The billionaire stood accused of "using a web of companies in the United Arab Emirates, Turkey, and Malaysia to sell millions of barrels of Iranian oil on behalf of the government since 2010," then defrauding the government of approximately $2.7 billion in oil revenue.
According to BBC, the crime of "spreading corruption on Earth" of which he stood accused is the single most serious offense in Iranian law. Zanjani's trial was held publicly.
In a statement on the state-run Press TV network's website, Iranian judiciary spokesman Gholam-Hossein Mohseni-Ejei noted other charges against Zanjani include money laundering and forgery.
The Guardian reports two of Zanjani's alleged accomplices also received the death penalty.
The billionaire was originally arrested in 2013 following a pledge by newly-elected President Hasan Rouhani to crack down on corruption and inefficiency in the Iranian government. Zanjani will have the chance to appeal the sentence in the courts, though Human Rights Watch notes the death penalty is routinely handed down for non-violent crimes across the country. An official tally of 2015's execution count stands at 200, though Human Rights Watch wrote opposition sources claim an additional 400 people were killed in secret.