5 Fantastic Nickelodeon Shows Taught Us the Importance of Diversity and Inclusion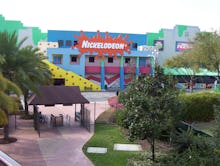 Wikipedia/Creative Commons
In 2014, Mathew Klickstein, author of Slimed! An Oral History of Nickelodeon's Golden Age, told Flavorwire that Nickelodeon's efforts to improve diversity in its programming were "exploitative and predatory." The network produces shows that emphasize inclusion; according to Klickstein, that's exactly what it shouldn't be doing.
"To just shove it in there because, 'Uh-oh, we need diversity,' is silly and a little disgusting," Klickstein told Flavorwire. "It needs to be the best people working on the best shows. They happen to be white, that's a shame. They happen to be all guys, that's a shame."
The one thing Klickstein gets right is this: It is a shame that most shows are made for white men, by white men, simply because you can't be what you can't see. Lately, it's been argued that, in privileging white, male perspectives, Hollywood has largely removed minorities from the cultural conversation. 
Read more: Chris Rock's Oscars Monologue Totally Nailed the Problem With Diversity in Hollywood
In order to bring in everyone — regardless of race, sex, orientation, religion or physical ability — we need shows that speak to everyone. That's especially true when we're talking about children's programs, Nickelodeon's bread and butter, because exposing kids to a realistic cast of characters places them in a world where all people are relevant. Failure to do so has demonstrably negative effects.
Nickelodeon has made a point of airing diverse shows; certainly, it still has whitewashed slots in its programming schedule, and certainly, it still prominently features men. But progress has been made in the past few decades, and these five shows prove it.
1. All That (1994 to 2005)
In the ten years All That spent entertaining audiences on Snick, it gave both boys and girls a voice in comedy and presented a racially inclusive cast, without any of this ever appearing to be "shoved in," as Klickstein put it.
"At a time when TV programming remained largely segregated by race (think Seinfeld and Friends; Martin and Living Single), All That featured an effortlessly diverse cast both in terms of ethnicity and gender," as Jake Flanagin wrote in the Atlantic in 2014. 
Flanagin pointed to the show's debut, on which girls outnumbered boys four to three, with the same ratio of non-white performers to white performers. In other words, All That flipped two industry norms on their heads.
2. Hey Arnold! (1996 to 2004)
Hey Arnold! was and is a Nickelodeon favorite, a cartoon that followed the life of a fourth grader named Arnold and his classmates, who came from a variety of socioeconomic and racial backgrounds — a deliberate choice made by the show's creator, Craig Bartlett, according to the A.V. Club. 
Bartlett said that Arnold's multi-cultural backdrop "spoke about what it was like to live in a modern city." In real life, "you have all these different ethnicities mixed up," he said. It's important that what kids see day-to-day is reflected in, reinforced by the shows they watch.
3. The Mystery Files of Shelby Woo (1996 to 1999)
Shelby Woo was a teenage detective who lived with her grandfather in the inn he owned, which also happened to be a hotbed of mysterious activity — she was a sort of Nancy Drew, but not just for white people. This is an applause-worthy thing within the media industry, which tends not to acknowledge Asian actors, or does so in a stereotype-perpetuating way.
"I am not certain if watching her show as a child was one of the first times I had ever realized that there was more to race than just black and white," one blogger wrote of Woo, "but to me, Shelby was more of a girl who shared my name than an Asian girl who shared my name."
4. Sanjay and Craig (2013 to present)
Sanjay is an adventuresome little boy with a talking pet snake. His show, Sanjay and Craig, was one subject of Klickstein's ire as expressed to Flavorwire. "That show is awkward because there's actually no reason for that character to be Indian," he said. 
By that logic, there's no reason for any white main character on any show to be white — what matters with Sanjay is that he offers a relatable narrative to a population of children who don't often get one. To us, that seems an eminently solid reason for Sanjay's being Indian.
5. Dora the Explorer (2000 to present)
And on that note, Dora the Explorer deserves mention. The show was created with the specific goal of improving the network's programming diversity. According to the New York Times, Nickelodeon "wanted to reflect the world children lived in" and succeeded in doing so, with Dora becoming the number one show for kids aged two to five within a year of its premiere.
"Besides being one of the first Latina cartoon characters in television, Dora is also unique because she is also a young female heroine," according to one sociological profile of the show. "She is not reinforcing female stereotypes that children are often exposed to on television. Dora is socializing children, particularly other young females, to see that they can be independent, problem-solving adventurers."
It's great that Dora persists as a Nickelodeon favorite, then, because she's not only representing an underrepresented demographic but also because she's challenging stereotypes, changing for the better the way children think about women.