Five-Time NFL MVP Peyton Manning is Retiring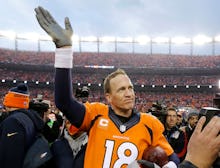 39-year-old Denver Broncos quarterback Peyton Manning has decided his Super Bowl 50 victory over the Carolina Panthers was his last professional football game.
Manning, who is already nearly a decade past the average NFL retirement age and has played 18 seasons, will inform fans and the media of the decision personally during a press conference on Monday, reports ESPN. In addition to two Super Bowl wins, Manning will "retire as the NFL's all-time leader in passing touchdowns (539), passing yards (71,940) and quarterback wins (186, tied with Brett Favre)."
"When you look at everything Peyton has accomplished as a player and person, it's easy to see how fortunate we've been to have him on our team," John Elway, Broncos EVP of football operations and general manager, said in a statement on the team's website. "Peyton was everything that we thought he was and even more — not only for the football team but in the community. I'm very thankful Peyton chose to play for the Denver Broncos, and I congratulate him on his Hall of Fame career."
The move comes as Manning is facing intense scrutiny over both allegations of human growth hormone use and news he hired his own investigative team to dig up dirt on the accusers. But it also comes as Manning's years were clearly catching up to him. A September 2015 profile on the quarterback noted it took him a painful 15 minutes to pull off his gear following a game on a good day. Satirical publication The Onion was among the many to make light of Manning's persistence in the face of decades of intense training, tackles and injuries.
For all the trouble, though, Spotrac reports Manning made an astonishing $248.73 million during his NFL career — and that's not even counting $12 million annually in endorsements as well as his extensive earnings from business ventures including Budweiser distributorships and Papa John's franchises.