French Police Warn Parents to Think Before Sharing Photos of Children Online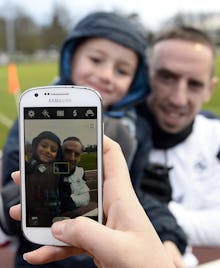 French national authorities have cautioned the nation's parents not to share photographs of their children on social media, warning the postings could expose children to danger and run afoul of French privacy laws.
"Protect your children!" a February post on Gerdarmerie nationale's Facebook page reads (translation courtesy of The Verge). "You can all be proud moms and dads to your magnificent children, but be careful. We remind you that posting photos of your kids to Facebook is not without danger!"
In a Le Figaro article linked to by the post, French privacy expert Éric Delcroix notes the law prohibits posting photographs of another person without their consent online (a transgression punishable by a 45,000 Euro fine, or up to a year in jail), and children could later sue their own parents if they feel wronged by the postings.
"If, in a few years, the children feel they are victims of infringement of privacy by their own parents, they may demand restitution," Delcroix told Le Figaro. "Teenagers are often criticized for their Internet behavior, but parents are no better."
A similar warning went out from German police in 2015.
According to the New York Times, the risks of the web may be somewhat overstated.
In 2009, University of New Hampshire Crimes Against Children Research Center director David Finkelhor told the paper "There is this characterization of pedophiles using the Internet as an L.L. Bean catalog, but this is not the way it happens." He added children are at the most risk when using chat rooms or other messaging sites where they may contact dangerous adults.
Still, Facebook is considering technology that will automatically warn parents before allowing them to share photos of children with large audiences, according to the Verge, which reported the site's vice president of engineering Jay Parikh had proposed such a feature at a conference in November 2015.
h/t The Verge