Balenciaga Paris Fashion Week Show Included 44 Outfits — And Not a Single Model of Color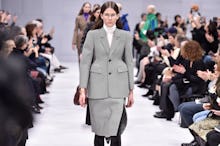 Balenciaga's runway show at Paris Fashion Week was one of the most highly anticipated of the season. But according to some industry insiders, the show fell flat. Why? Not a single model of color was featured in the show.
Read more: H&M's Impressively Diverse Fashion Week Show Is an Example Other Designers Should See
As much as diversity has been a topic of conversation for the past three fashion seasons, so has Georgia-born designer Demna Gvasalia. Having shot to the top of the industry by heading the collective of designers behind Vetements, Gvasalia has caught the attention of celebrities like Lorde and Kanye West. In October, he was announced as the new creative director of Balenciaga, taking over from American designer Alexander Wang.
Wang previously made waves during his time at the luxury fashion house when he tapped three up-and-coming models of color to open the Balenciaga show. The news was particularly welcome considering the prominence of the hashtag #BlackOutDay, focused on bringing people of color to the forefront. Wang followed that up by featuring three models of color as well as actress/singer/model Zoë Kravitz in Balenciaga's next show. The numbers weren't big, but they were there.
This time around, with Gvasalia at the helm, that little progress seemed to be erased by an all-white runway — and people noticed. Editors, fashion fans and industry personnel alike took to social media to voice their displeasure at the lineup. 
James Scully, casting director for big names like Oscar de la Renta, Tom Ford and Stella McCartney, wrote a pointed note on Instagram.
"So if you're the designer the whole world is looking to right now how, great that your message is one of exclusion which is never in fashion," he wrote. "It must feel like a slap to all if the people of color who line up to buy your clothes that your message to them you don't see them in your world."
Others sounded off on Twitter:
On Instagram, users flooded the comment section of the Balenciaga account, voicing their displeasure and outrage. "Very irresponsible for an international brand to only use white models for a runway presentation," wrote one user. "Lmao only white models fall backkkkk," wrote user natalia.dedios.
Others accused the brand of deleting its disapproving comments.
It's hardly the first time Gvasalia has been accused of ignoring diversity on the runway. Vetements caused a similar stir just days earlier by featuring a lineup of all-white models for its runway show.
"There was one thing that stood out about circumflex-free Paris 'It' label Vetements' show yesterday," noted New York's the Cut. "And that is, it was pretty much a sea of white people — an uncomfortable throwback to the mid-'90s and '00s era of seriously un-diverse casting at luxury shows."
Hopefully, with this sort of backlash on an international scale, both Gvasalia and Balenciaga can follow in the heels of indie brands like Chromat or mainstream megabrands like H&M and diversify its runways to reflect its many, many fans.