Why Are There So Few Female Late-Night Hosts?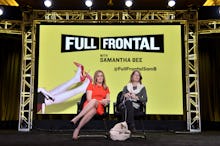 With the exception of The Daily Show alumna Samantha Bee's new TBS show Full Frontal, women hosting their own late-night talk shows is an extremely rare thing. And Full Frontal has definitely noticed the gender gap, calling the lack of diversity of late-night television a "late-night all-male sausage fest."
"Breaking up late-night's all-male sausage fest, this new show from the longtime Daily Show correspondent will feature Samantha's nuanced view of political and cultural issues, her sharp interview skills, her repartee with world leaders and, of course, her 10-pound lady balls," the TBS summary of the new show states. 
Read more: Donald Trump Roasted on 'SNL' With "Racists for Trump" Ad
Vanity Fair published an article in September on 10 hosts, all male, who are revitalizing late-night television for viewers. John Oliver, Bill Maher, Conan O'Brien, Trevor Noah and Stephen Colbert were a few of the hosts included on the cover, adding an exclamation point to the lack of diversity in late-night. The 46-year-old Bee is currently the only female late-night host. 
Bee welcomes the conversation around the lack of women in the late-night talk show industry. "I am never tired of that!" Bee told journalists at the Television Critics Association in Pasadena, California, according to Variety. "It makes complete sense to me that it would be part of the conversation. There has just not been a wealth of women in late-night." 
In an interview with Mother Jones, Bee said she wasn't sure why the gender gap in late-night television exists. "When you think about the women who have come before me in that space, it's such a small number of people," she told Mother Jones. "It's really unthinkably small. I just don't know why. I really don't know why."
Over the past three decades, women have indeed had successful late-night talk shows. In 1986, Joan Rivers became the first woman to host a late-night television show with The Late Show Starring Joan Rivers. Actress and comedian Mo'Nique hosted late-night talk show The Mo'Nique Show on BET for two seasons. And Chelsea Lately, hosted by the comedian Chelsea Handler, lasted seven seasons on the E! television network. 
Hollywood is basically a club for white men, who tend to hire, cast and award people that are white and male, according to an essay in the Hollywood Reporter written by the comedian Chris Rock. "It's a white industry," Rock writes of the entertainment industry. "Just as the NBA is a black industry. I'm not even saying it's a bad thing. It just is. And the black people they do hire tend to be the same person." 
"The comedian didn't specifically address the dearth of women in late-night, but he noted that Hollywood is run by white guys who tend to hire and cast people who look like themselves — not necessarily out of bigotry, but out of a lack of imagination," Gary Susman wrote for Moviefone. "It's up to the handful of black people, women, and Latinos with power to mentor others like themselves, since no one else will, Rock suggested."
One thing is for sure: Multiple voices and perspectives are needed in the late-night television industry. America is ready for it.