Kesha Wins Visibility Award For Speaking Out About Anti-LGBT Bullying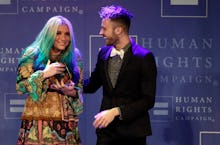 During a poignant speech at a Human Rights Campaign Nashville awards ceremony on Saturday, pop star Kesha choked up while accepting a Visibility Award for her opposition to the bullying of LGBT youth, the Associated Press reports.
Kesha, who told the public she is bisexual in 2013, told a crowd that fame was not easy but that she was appreciative of the opportunity to use it to advance a pro-LGBT and anti-bullying agenda. During the speech, she made reference to her ongoing attempts to break out of a contract with producer Lukasz "Dr. Luke" Gottwald, who she says sexually and emotionally abused her, and Sony Music Entertainment, which she claims ignored Gottwald's abusive nature.
In February, a judge ruled she could not break the contract.
"As many of you know I am going through some personal things that have been really intense and hard lately and I just want to say thank you for any support I've received," Kesha says in the speech. "I've met many members of the LGBT community, and some very, very close friends, who have come close to taking their own lives because of the abuse they've had to deal with, and that is heartbreaking. I don't want to live in a world where we treat each other like that."
"That's why my message has always been about being yourself," she added. "And we really have to love each other and support each other."
According to the Human Rights Campaign, due to a variety of reasons including homophobia, higher rates of poverty and marginalization, and "the ways in which society both hypersexualizes LGBTQ people and stigmatizes our relationships," LGBT and queer individuals experience sexual violence "at similar or higher rates than heterosexuals." Centers for Disease Control surveys show 46% of bisexual women report having been raped, compared to just 17% of straight women and 13% of lesbians.
In February, Kesha posted to Facebook about her ongoing legal battles with Sony and the need to protect the vulnerable from abuse.
"It leaves such a bad taste in my mouth," 18-year-old Kesha fan Ana Wilheim told Mic of the music Kesha made with Dr. Luke at a February protest. "I partied to that music; I sang to that music; I love that music. To think that all this was happening shows you can't know everything that's going on. It makes you wonder who else is going through this, all over."