Male Barbie Is Getting a Realistically Proportioned Friend — Meet Boy Lammily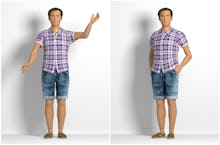 Thanks to the doll makers at Lammily, girls and boys everywhere have a female doll with realistic proportions. They've even equipped the doll with menstrual pads to teach girls about their periods and realistic stickers so that the dolls can have scars, stretch marks, acne and more.
Related: Barbie Debuts Curvy, Tall and Petite Dolls for Body-Positive Makeover
Today, Lammily is hoping to expand its family by launching a Tilt Campaign to help fund its first-ever male doll. Like its female predecessor, boy Lammily has actually realistic, average human proportions.
The doll itself comes with a red, white and blue plaid flannel shirt and rolled-up blue jeans. Nickolay Lamm, the man behind Lammily, created the "realistically proportioned" male doll by consulting with Matthew P. Reed, the Head of the Biosciences Group at the University of Michigan Transportation Research Institute.
Reed sent over data of the average measurements for waist, neck, height and so on for a 19-year-old male. To compare this doll directly to the Ken we probably grew up with, boy Lammily is sans six-pack, that impossible chest-to-waist scenario and that super thin neck. 
Founded in 2014 by Lamm, Lammily's initial goal was to create a female doll that could provide a more realistic image of what a doll (and person) can be. Having achieved that, the company is launching the campaign to craft a male doll that could do the same.
"I think at the end of the day, women face unrealistic beauty standards, but men also feel pressured — to be tall, muscular, have a full head of hair, etc," Lamm, 27, told Mic. "With realistically proportioned boy dolls I want to show both boys and girls that real is beautiful, that you don't have to look like a superhero to be a superhero."
The boy Lammily is an indirect response to Mattel's recently launched line of Barbie dolls in varying body types like tall, petite and curvy. Days after its release in January, people started asking, "What about the men?" or, more aptly, "What about Ken?"
As Lamm himself noted, "There's still a void to fill." 
The clothing company Lyst provided a solution itself by creating a few dolls of varying shapes and styles, like dad bod Ken and hipster Ken. 
"Taking the new Barbie lineup as a starting point, we tried to mirror some of her changes, while adding in some distinctly male realities," Katherine Ormerod, Lyst's editorial director, told Mic previously. "Not all men have a six pack, thus the 'dad bod' belly. Equally not all men can boast a full head of hair, so we wanted show that with the balding hairstyle. "
At the time, Lyst admitted that the dolls won't be on sale anytime soon. But Lammily's will be: If it receives full funding by April 1, it should start rolling out before the end of the year. According to Lamm, for the realistically proportioned female doll, Lammily saw more than 13,621 people preorder more than 20,000 dolls, so the chances of this doll receiving its funding are high. 
And if you think all this talk of why inclusivity within the doll world is a little ridiculous, Lamm has a clapback well prepared. 
"People on the internet are like, 'Oh, dolls don't matter,'" Lamm said. "But we don't know everything that affects us. If there are realistic dolls out there then they can suggest to kids and parents that being who you are is cool. There are un-Photoshopped models but to see it and to touch it ... it's there in front of them to show them that reality is beautiful."
57 years to the day since Barbie first debuted, look how far we've come.