Nancy Reagan's Red Made the Case for Embracing a Color "Uniform"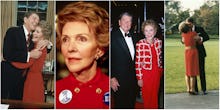 Like her politics or not, you have to admit: Nancy Reagan understood clothing.
For one, she was intimately familiar with designers, something the fashion establishment recalled in eulogies Sunday, after the former first lady died at age 94. Reagan, as the New York Times and Women's Wear Daily wrote, embraced luxury labels and designers more than most first ladies before her.
She also fully understood the value of finding a color that works and sticking with it.
"If you think of red as a power color, you track that back to Nancy Reagan," Glamour editor in chief Cindi Leive told the New York Times on Sunday.
"I suspect she was influential in making red the Republican color," Valerie Steele, director of the Museum at the Fashion Institute of Technology, told the Times.
As first lady, Reagan had a "love affair with the color red," as People put it, choosing the vibrant fire-engine shade for staid suits and evening gowns alike. While she didn't wear red exclusively (she often chose white or black, like her white, beaded one-shoulder James Galanos gown for the 1981 inaugural ball), red was her go-to color. 
Her affinity for red predated the White House, ever since she wore a red suit at the press conference in which her husband, Ronald Reagan, announced his run for governor of California in 1966. 
As first lady, her propensity for red outfits became nearly synonymous with the man behind them: Adolfo, a Cuban-born American fashion designer who was one of Reagan's closest fashion collaborators. Reagan's coat and dress for her husband's first inauguration ceremony, in 1981, were by Adolfo.
Why all the red?
"I always liked red. It's a picker-upper," she told W magazine in 2007. "I didn't give it the name of Reagan Red, but that became its name."
And because, well, it worked. "Reagan is a woman who sticks to her guns in matters great and small," noted W magazine. She was fashionable and eager to stay in touch with the industry's ever-changing trends, but she knew what worked for her, and that was a bold, unapologetic, glamorous but strong color that couldn't be missed.
Call it a uniform, call it IDGAF style. Picking one thing that works and sticking with it is, as more and more women are realizing, the hallmark of dressing like a grown-ass adult — not succumbing to every trend, embracing your own signature look and not worrying about what others think.
Reagan, with her Reagan red, learned that lesson long ago.