Kim Kardashian West Breaks the Internet Again With New Nude Photo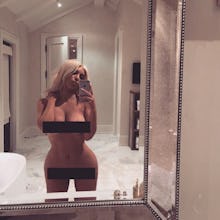 Kim Kardashian West has broken the internet... again. 
The reality star made famous for her role in the television show Keeping Up With the Kardashians and her marriage to Kanye West, posted a nude photo of herself Monday on Twitter.
"When you're like I have nothing to wear LOL," she wrote below an image with two strategically placed black bars. 
In mere hours, the post generated more than 31,700 retweets... and much commentary.
It's hardly the first time Kardashian West's antics have exploded into the news cycle. Her first internet-breaking moment, posing on the cover of Paper magazine, was followed by a nude selfie in August, and news that she planned to eat the placenta of her son Saint West. 
"I heard so many stories when I was pregnant with North of moms who never ate their placenta with their first baby and then had postpartum depression," Kardashian West said at the time.
And while Twitter was predictably awash in OMG and copious amounts of thirst, there was also a general feeling of discomfort at the mother of two baring it all — because she's a mother of two.
Get the five stories that will challenge you to rethink the world by signing up for MicCheck Daily.