Debates This Week: Full Democratic and Republican Debate Schedule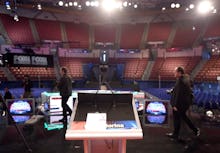 It's a big week for presidential hopefuls. Former Secretary of State Hillary Clinton and Vermont Sen. Bernie Sanders had an onstage showdown Sunday evening in a debate CNN hosted in Flint, Michigan. The Democratic candidates will follow up with another debate Wednesday. The remaining Republican candidates are also scheduled to debate this week — Thursday at the University of Miami in Florida. 
The Republican candidates last debated on Thursday, an event Fox News hosted from the Fox Theatre in Detroit. CNN will host this week's debate, and the Washington Times and Salem Media Group are the sponsors. Including this week's debate, the GOP presidential hopefuls with gather twice more to debate before voters head to the polls. The final debate is scheduled for March 21 in Salt Lake City. 
Read more: Everything You Missed in the 2016 Democratic Debate in Flint, Michigan
For the Democratic candidates, Wednesday's debate is one of three remaining events of its kind. This week, Clinton and Sanders will debate from Miami Dade College in Florida; Univision and the Washington Post will sponsor the event. The candidates gather onstage twice more, once in April and again in May, though dates for those debates are yet to be scheduled. 
Sunday's debate got heated — and Sanders was ready for a fight. 
Clinton and Sanders cycled through their respective positions on the Environmental Protection Agency's leadership, gun legislation, welfare reform and fracking, among others. And at one point, they were pressed to comment on their competition across the aisle. Specifically, Clinton and Sanders discussed how they would defeat GOP frontrunner and real estate mogul Donald Trump if elected as the Democratic nominee. 
"There's only one candidate in either party who has more votes than him, and that's me," Clinton argued. "I am building a broad, diverse coalition across our country. I am very excited by the support we're receiving, and I have said, and I will repeat here, I think that Donald Trump's bigotry, his bullying, his bluster are not going to wear well on the American people." 
Meanwhile, Sanders pointed to his success with both young and working-class voters — demographics whose voting powers he is banking on to win the nomination.